Microsoft Surface table could use a projector, not a screen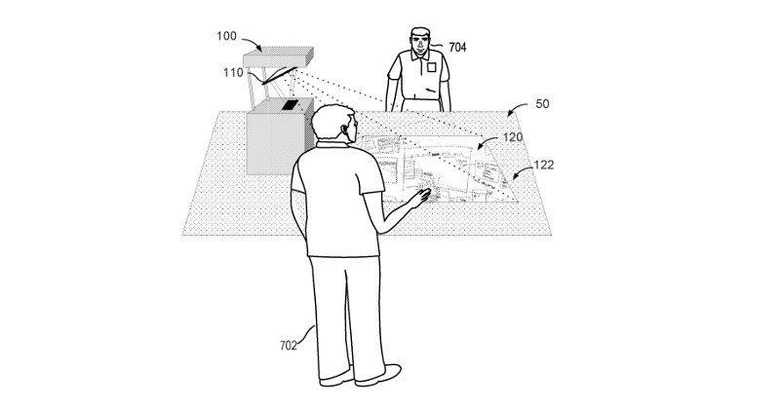 The word "Surface" in Microsoft has come a long way. It started out as a futuristic idea of a coffee table that also functioned as a touch screen computer. Since then it has become a brand than embraced 2-in-1 tablets, a giant whiteboard/screen computer, and, more recently, an all-in-one PC that's a creative's wet dream. It might, however, come full circle soon. A recent Microsoft patent filing for an "INTERACTIVE INTEGRATED DISPLAY AND PROCESSING DEVICE" shows the company toying again with the idea of a computer table, but one that uses projectors and sensors instead of more expensive touch screens.
Given the pervasiveness and familiarity of touch screens, you'd think it was a no-brainer to create a touch-enabled display the size of a computer table. But the costs of creating such a large screen were just far too high and the yield probably too low. This would translate to a prohibitively expensive price tag, thereby limiting such a product's appeal, reach, and sales. Just look at the Surface Hub.
And so the original "Microsoft Surface" idea was seemingly shelved, with the name reused for a different product. The Surface table was actually also renamed to PixelSense, which now refers to a different thing as well. With the launch of the gigantic Surface Studio, however, it would seem that Microsoft is a step nearer to a larger display, one that could fit on a table. Well, yes and no.
Microsoft's new "Surface Table" patent isn't exactly new. It has been used before, even in existing products. It basically involves two things. The first is a computing device that projects the screen, as well as the interface, on a usually flat surface. The second is a bunch of sensors that detect movement and gestures. Again, we've seen that setup before, from Microsoft's own experiments as well a something like the Sony Xperia Projector.
Of course, a patent is just a patent and is no assurance of a finished product, much less a successful one. That said, Microsoft basically has all the pieces it needs to build one. It just needs to weave them into a single, convincing, and hopefully better-looking package.
VIA: MSPoweruser