Microsoft Surface Pro Review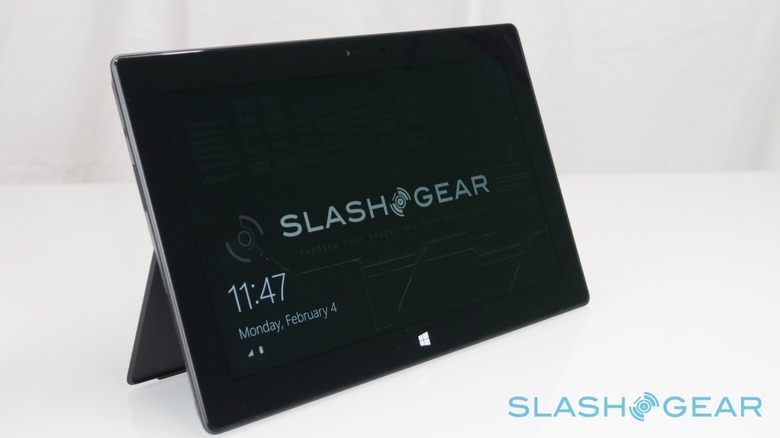 Microsoft met some resistance with its first Surface tablet, but that isn't stopping the company from making a second attempt, this time with a full copy of Windows 8. Where the Surface RT left would-be tableteers confused with its partial app support, the Surface Pro is Windows on far more familiar territory: Intel silicon inside, and the full flexibility of a regular PC, simply with a touchscreen up-front. Of course, that also brings with it the same issues that have always plagued Windows-based tablets: battery life, weight, heat, and software usability. Does Microsoft's own-brand slate finally put those criticisms to rest, and is this the tablet you should have in your bag? Read on for our full review.
Hardware and Design
You could easily mistake the Surface Pro for the ARM-based Surface at first glance, given how aesthetically similar each tablet is. Look a little closer, though, and the key differences become apparent. Microsoft has used the same VaporMg treated magnesium alloy for the casing, and it still feels great in the hand: smooth and easy to hold, but still sturdy and scratch-resistant.
Surface Pro is a little bigger than the original Surface: at 10.81 x 6.81 x 0.53 inches, it's slightly taller and noticeably thicker, a side-effect of accommodating PC-class components and a bigger capacity battery. That makes it heavier, too, a smudge under 2lbs versus the 1.5lbs of Surface. It's still comfortable to hold, but for single-handed use we found ourselves cradling the slate in the crook of our arm, rather than gripping it by the bezel as we might do with an iPad. The fact that Windows still prefers landscape to portrait orientation emphasizes that too.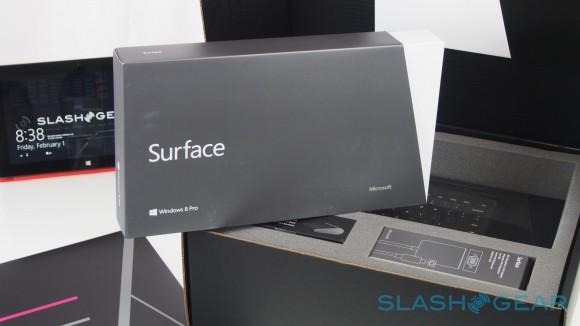 Microsoft's approach to cooling is an interesting one. Rather than a patch of obvious grills for ventilation, there's a slot that runs all the way around the edge of the Surface Pro, and from which warm air is pushed out while cool air is pulled in. Two fans, rather than one, have been used to dynamically adjust the airflow depending on what's hottest and how you're holding the tablet. Altogether, the design makes it difficult to figure out where, exactly, the tablet is venting from; plus, it helps mask the noise of the fans. In regular use, the Surface Pro is near silent, in fact.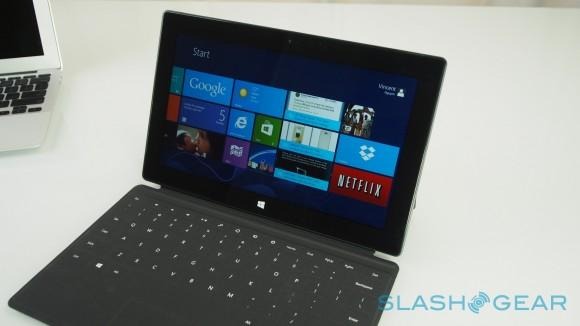 On the back, there's a kickstand to prop the Surface Pro up on your desk. It actually snaps out to a slightly different angle – a little further reclined – than the stand on the Surface RT, though whether you'll notice the difference in day-to-day use is questionable. More interestingly, there's a change in the selection of ports Microsoft spreads around the slate: you now get a full-sized USB 3.0, rather than USB 2.0, as well as a Mini DisplayPort instead of the Surface RT's HD video output. Otherwise, there's still a headphone jack and a microSDXC card slot, along with a magnetic cover port for attaching the same Touch Cover or Type Cover keyboard accessories as we've seen before.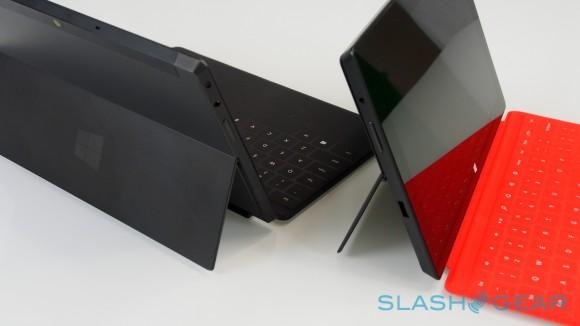 Specifications
Where the Surface RT ran its pared-back Windows on NVIDIA's Tegra 3, the Surface Pro has far more familiar fare inside. An Intel Core i5 3rd-gen processor is the tablet's beating heart, with Intel HD Graphics 4000 driving the 10.6-inch display (more on which later). Memory is doubled, to 4GB, while two storage versions are offered: 64GB and 128GB.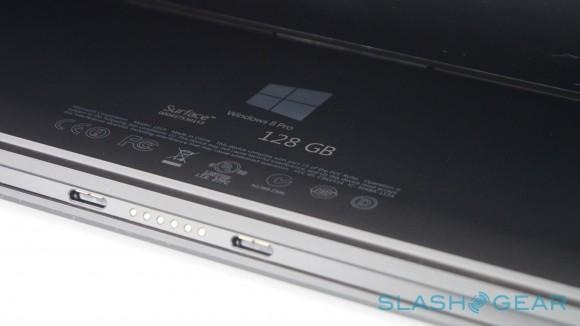 Here, though, is the first of the issues the Surface Pro runs into. Windows is a notorious drive hog, and when coupled with the default applications and the mandatory recovery partition – provided in-lieu of recovery discs or, as Apple includes with its recent driveless notebooks, a USB stick with the OS – there's a surprisingly small amount of space left for users themselves. On the 64GB version, in fact, only around 23GB of space is actually available, while the 128GB model does a little better with 83GB free.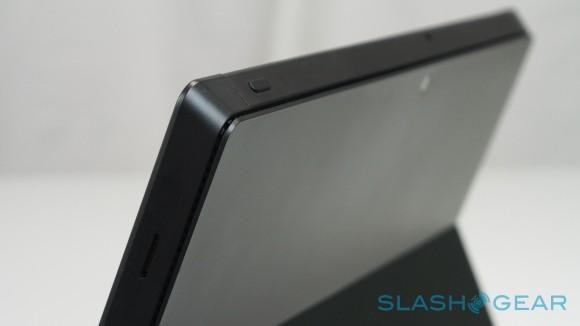 Microsoft points out that owners wanting more capacity can throw in a memory card – a 64GB microSDXC can be had for around sixty bucks – but it's still likely to be a surprise for those expecting closer to the number printed on the box. There's also cloud storage, such as Microsoft's own SkyDrive, which could help fill in the gaps, though without an integrated cellular modem you'd need to be within range of a WiFi network in order to actually access it. It's possible to create your own bootable USB drive, and then delete the recovery partition manually, but we can't help wishing Microsoft had done this for us.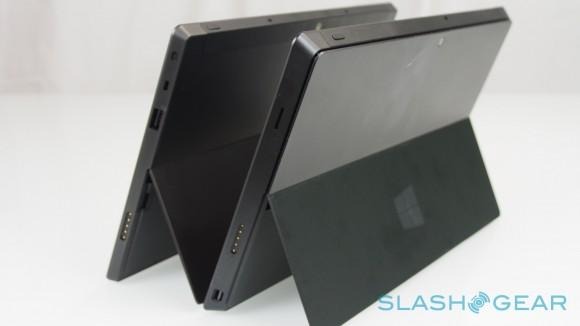 In addition to the USB 3.0 port, the Surface Pro has WiFi a/b/g/n and Bluetooth 4.0. Inside, there's an ambient light sensor, accelerometer, gyroscope, and a digital compass, though no hardware GPS. Microsoft has found space for stereo speakers, as per the Surface RT, but only a single microphone against the RT version's dual mic array. The pair of 720p HD cameras – one on the front, one on the back – remain.
Pen and Display
Microsoft had high hopes for its ClearType-blessed display on the original Surface, but we found the 1366 x 768 resolution to be underwhelming in comparison to better-than-HD panels on the iPad and Nexus 10. Happily, the Surface Pro brings with it a far better screen: still 10.6-inches and 16:9 widescreen, but running at 1920 x 1080 Full HD.
The difference is vast. Where once we had slightly fuzzy text, everything is now crisp. Viewing angles seem better too, and we're impressed by the richness of the colors. It might not be the Retina-level resolution of the latest iPad, but it's far more in keeping with what, at upwards of $899, is most definitely a premium tablet.
The Surface Pro's talents don't end at a great display, though. In addition to 10-finger multitouch – double what the Surface RT can recognize – there's also pen support. Not the fake-finger capacitive styli offered for the iPad and other tablets, but a special pen that works with an active digitizer embedded in the screen.
Usually, the pen clings to the right side of the tablet, magnetically attached. It's a firm grip – Microsoft says it purposefully increased the magnet strength from what holds the keyboard on – and should keep it in place even if you drop the whole thing into your bag. As the nib gets within a few millimeters of the display, the usual capacitive touch is shut off and everything is controlled via the pen instead: you can wave it above the surface of the screen to move the mouse pointer, and then tap to mimic a left mouse click. A button on the side does right mouse click duty.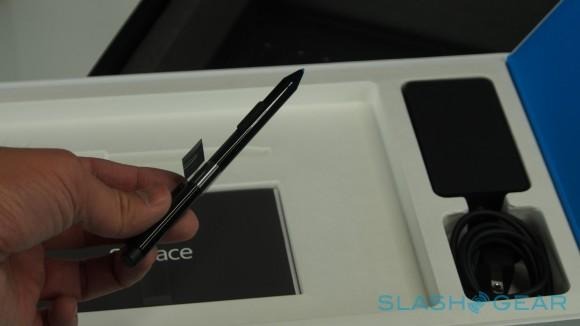 On the opposite end to the nib is an "eraser" which, as long as the app recognizes it, allows you to rub out mistakes. Just as you'd expect, there's palm-rejection that means you can lean your hand on the screen and not have it skew your digital ink. The pen is battery-free, too, getting its power from the digitizer layer in the Surface Pro itself.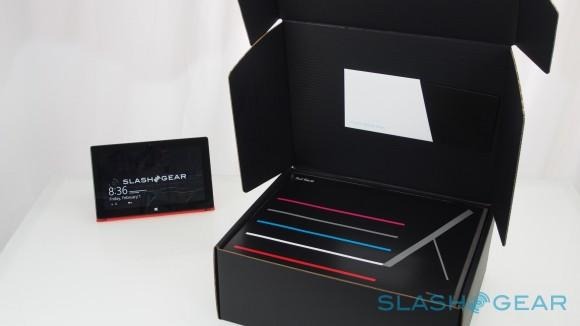 Microsoft obviously intends for the pen to play a big role in the Surface Pro experience: it's included as standard in the box, whereas the Touch Cover and Type Cover are both optional extras. Windows tablets aren't exactly unfamiliar with stylus control, but in the early years of the iPad modern tablet use got associated with finger control, and the technology fell from favor. Since then Samsung has restarted interest in what can be done with a digital pen, with the Galaxy Note series, and the Surface Pro can wear its stylus with pride.
Windows 8
Special screen and VaporMg chassis aside, the Surface Pro is basically just another Windows PC. We've already comprehensively reviewed Windows 8, though it's worth noting that the tile-based UI makes far more sense when you're swiping and tapping through it with your fingers than it does when navigated using a mouse.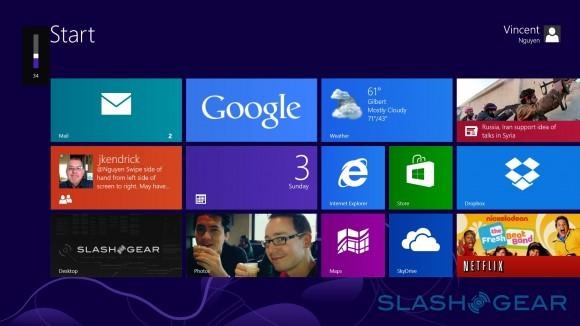 As you'd hope from a Core i5 processor and 4GB of memory, there are no noticeable slow-downs and the Surface Pro handled any app we threw at it. Capacity concerns aside, Microsoft's use of flash storage also lends a welcome boost to software load times, while multitasking is instantaneous, flipping between apps without delay.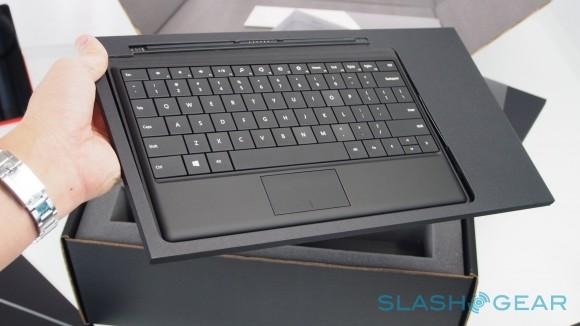 Slot on a Touch Cover or Type Cover, meanwhile – the same accessories for the Surface RT will work with the Pro – and you've got a workable ultrabook alternative. We still prefer the Type Cover for anything more than the basics of text-entry, mind; the zero-profile keys of the Touch Cover, while an improvement over on-screen typing, nonetheless lack the responsiveness that makes extended use comfortable.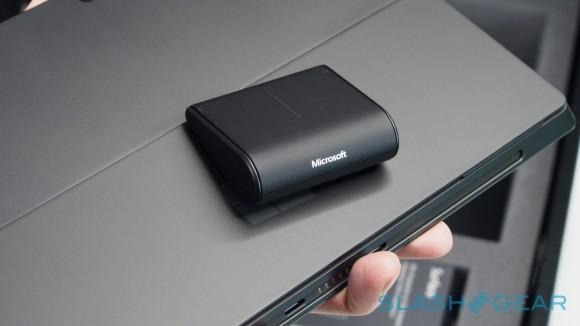 An alternative to both is using the Surface as the hub of a desktop setup, something that's easy to achieve if you opt for a Bluetooth keyboard and mouse. The Surface Pro is more than capable of powering a large display over Mini DisplayPort, leaving the USB 3.0 port free for hooking up an external drive or other peripherals. Since this is full-fat Windows, there's no making sure that your accessory of choice is on Microsoft's "approved" list, as is the case with Windows RT.
When the Surface Pro really comes into its own is when the pen gets involved. Frustratingly, Microsoft hasn't really done everything it can to demonstrate what benefits a stylus brings: the obvious showcase app would be OneNote, which was offering Evernote-style digital notetaking functionality long before Evernote sprouted in the cloud, but Surface Pro buyers will need to cough up $69.99 for a copy (or get it as part of Office 2013 or an Office 365 subscription).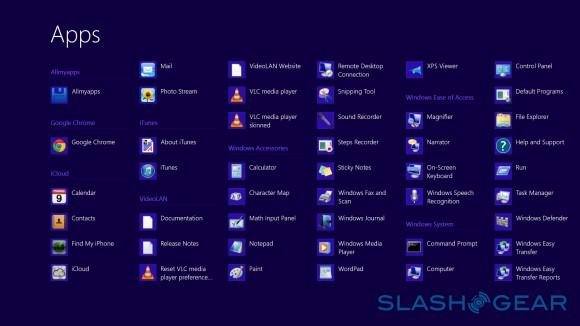 It's worth it, though, as is trying out a digital art app, such as the copies of Autodesk SketchBook Express Microsoft and Fresh Paint Microsoft had loaded onto our review device. The Wacom stylus can differentiate between 1024 different levels of pressure, automatically adjusting the thickness of the on-screen ink depending on how hard you press, for instance, and it's a far more user-friendly way to sketch out ideas (even if your art skills fall short). Surface Pro also supports being turned into a graphics tablet of sorts: hook up an external display and you can tell Windows 8 to map your pen movements on the tablet to the external screen by default, mimicking a standalone Wacom tablet.
More patchy are plain Windows apps, which lack distinct touchscreen support and, as a result, can be a little more difficult to control with your fingers. Browsers are a good example: Microsoft's own Internet Explorer gives the best touch experience, while others – Firefox, Chrome, Safari, etc. – generally expect you to be using a mouse, and hence navigate by using the scroll bars on the side of the screen rather than flicking and pinch-zooming. In the traditional Windows desktop you can optionally enlarge the scroll bars to give yourself a bigger target, but it still lacks the immediacy of, say, the iPad's Safari browser.
Where the Surface Pro's internet experience does pull ahead is in speed. We expected strong browser performance from the grown-up processor and full OS, and sure enough the SunSpider results – the test of JavaScript performance, where faster results are better – delivered. In IE, the test was complete in 144ms, while Safari and Chrome took a little longer, at over 240ms apiece. Contrast all three results, though, with the 4th-gen iPad with Retina display, which took 879ms to complete the same test.
The Surface Pro's integrated graphics – rather than a discrete GPU – preclude any serious gaming or video editing, unfortunately. Still, we were able to load up Photoshop and complete some of the more day-to-day tasks without the tablet stumbling to a halt.
It's in day-to-day use that the Surface Pro arguably shows its full hand. The combination of the kickstand and the broad display viewing angles meant the tablet generally followed us around the home, stood up on whatever surface was nearby. The kitchen counter was a particular favorite, at which point the Windows 8 Live Tiles showed their merit. Surface Pro sits quietly updating, flagging up new messages and the like; however, it's also a great at what we'd call "natural discovery," where content you might have forgotten about or overlooked is brought to the fore.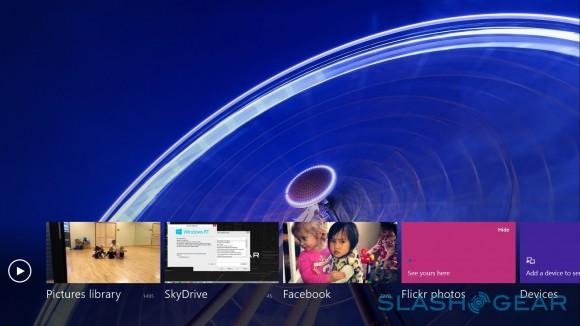 A good example of that is the photo integration. Windows 8's abilities to bring online galleries through to the Live Tiles and cycle through photos meant we rediscovered whole folders-worth of images, including those shared by friends. It's an engaging way to interact with the Surface Pro, and helped by the fact that software in the Metro-style interface co-exists neatly with what's running on the traditional desktop. So, we could have the full Spotify app playing music in the background, while using the more finger-friendly UI to browse the web and flick through galleries.
Battery
To say Microsoft is shy on making battery life predictions is an understatement: beyond the confirmation that it's a 42Wh pack inside the Surface Pro – up from the 31.5Wh of the Surface RT – there's little indication of what sort of runtime owners might expect. Still, with specifications akin to a mainstream ultrabook, it comes as little surprise that the Surface Pro manages roughly ultrabook-length longevity.
In a test with the display permanently on, and playing streaming media constantly, the Surface Pro lasted for between 4.5 and 5 hours. In a slightly more mixed test, with a combination of web browsing while listening to Spotify, as well as streaming via Netflix and YouTube, that rose to six hours.
Both of those scenarios are probably some of the biggest battery challenges the Surface Pro might be expected to take on. More typical daily use, then, could see the tablet run for a few hours more, especially if you're predominantly web browsing, emailing, and using art apps.
Wrap-up
With a new 128GB iPad with Retina display on the scene, it's easy to make comparisons between Apple's tablet and the Surface Pro. In practice, however, they're very different beasts. The iPad is focused resolutely on the mass market, and if you want one you have to be willing to concede to Apple's Way: their decision about what apps are worthy of the App Store, their decision about what accessories can be used, their decision about what, exactly, you can do with the tablet you just spent more than a few hundred dollars on. In contrast, the Surface Pro is a paragon of freedom. If you have unusual requests of it, you can probably find the software and/or hardware to achieve them. It is, after all, a touchscreen ultrabook wearing a different costume.
If you actually need a full Windows PC that you can strum with your fingers is the question. Not being limited to pared-down versions of apps is a big bonus if there's particular software you need access to; however, that flexibility comes with its fair share of compromises, such as the limitations on battery life compared to ARM-based slates, the increase in bulk, and the higher price.
The Surface Pro is slickly designed, its digital pen a joy to use – if you have the need of it – and it comes without the software niggles that dampened our enthusiasm about the Surface RT last year. Think of it as a touchscreen notebook with an optional keyboard and it makes the most sense. That may be semantics, but it also means the Surface Pro is more likely to cannibalize ultrabook sales than eat into Apple's iPad market. Whether that's the market Microsoft was aiming for, we're not sure, but the Surface Pro makes considerable sense for the prosumer.