Microsoft Surface Pro battery life is half what the Surface RT offers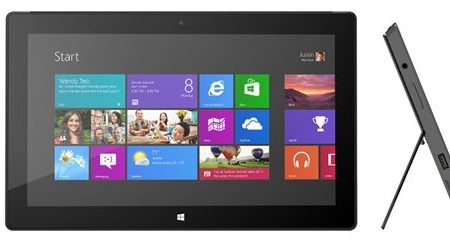 Multiple reports have been surfacing over the last several weeks that hints Microsoft isn't doing well with its Surface line of tablets. Yesterday we mentioned that a source in Microsoft's supply chain said that surface RT tablet production orders had been chopped in half due to low demand. That same source tipped that the Microsoft Surface Pro might be coming earlier and at a reduced price.
Microsoft also announced yesterday the official pricing for the Surface Pro tablets, and the prices were right in line with what we had expected all along. The 64 GB version of the tablet alone will sell for $899 while 128 GB version will sell for $999. Neither price includes the slick keyboard accessory.
It's not exactly clear how much they keyboard accessory will cost, but a good guess will be in the $120 and up range. While Microsoft is talking pricing for the Surface Pro tablet, it also let slip a little tidbit about battery life for the high-end tablet. Word is that the Surface Pro tablets will get roughly half the usable battery life as the Surface RT tablets offer.
The Surface RT tablets are able to offer between eight and 10 hours of runtime by most accounts. That means that the Surface Pro is only going to be good for about 4 to 5 hours between charges. I don't think those numbers will make mobile professionals happy in the least.
[via ZDNet]