Microsoft Surface Pro Arriving In January Starting At $899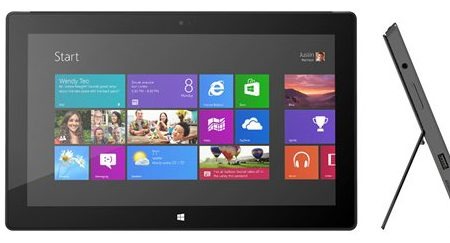 Ever since the Surface tablet was released from Microsoft, we've only been more and more curious about their upcoming Pro version. Finally, the Redmond-based company has released details about the upcoming tablet for power users, including pricing and availability. Starting in January, you'll be able to grab a Surface Pro starting at $899 for the 64GB version and $999 for the 128GB variant.
The $899 and $999 models will be the "standalone" versions, meaning you'll have to crank out more cash if you want the keyboard attachment. However, it'll come with the pen/stylus in the box. As you can see, the device looks very similar to the regular Surface tablet, including the same type of casing and built-in kickstand. Plus, it also boasts the same 10.6-inch display with the 16:9 aspect ratio.
However, a lot of differences are coming to the Surface Pro. For one, the screen will feature a full HD 1920x1080 resolution. It'll also bypass ARM chips altogether and will opt for an Intel Core i5 processor, as well as a Mini DisplayPort that can output a 2560x1440 resolution, a full-size USB 3.0 port, and a copy of Windows 8 Pro with support for traditional desktop applications.
The Surface Pro will act more like a laptop than the regular Surface tablet. Of course, you'll still have the ability to easily use it as a tablet, but using it with either keyboard attachments will no doubt give the Surface Pro more credit as being a true hybrid, thanks to a full version of Windows 8 Pro instead of just Windows RT.