Microsoft Surface preorders open: $499 for 32GB, $599 inc Touch Cover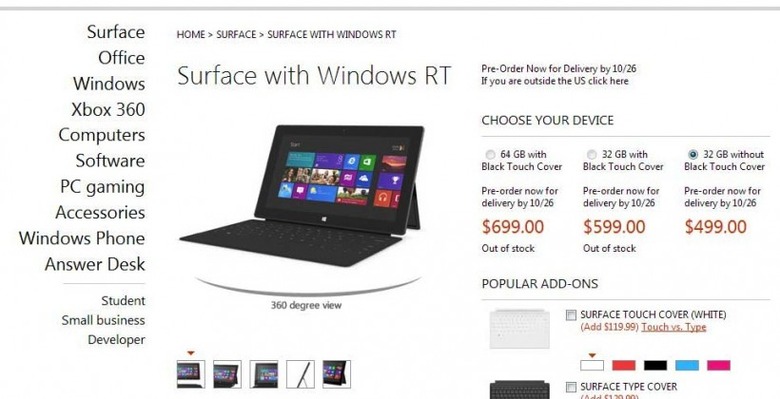 Microsoft's
has shown up for preorder in the US, with the Windows RT slate priced from $499 and set to go on sale on October 26. The listing at
 gives three Surface RT options, starting with the 32GB model with no cover for the same price as a 16GB new iPad, then rising to $599 for the 32GB version with a black Touch Cover.
The final option is the $699 64GB Surface RT, which also comes with a black Touch Cover. Those covers are also sold separately, at $119.99 apiece, and will be available in five different colors: white, red, black, blue, and pink.
Microsoft will also be offering the Surface Type Cover, which has a more traditional keyboard for those doing greater amounts of text entry. It's priced at $129.99, and apparently only available in black.
Update: Microsoft has pulled the product page, though we're guessing it won't be long before it goes live again.
Microsoft has been coy on Surface pricing over the past months since the Windows tablet was first revealed, and though these new figures seem ambitious in comparison to Apple's third-gen iPad, they could easily be seen as expensive for a new platform and no backward compatibility with existing apps. That backward compatibility will have to wait for the Windows 8 based Surface Pro, which Microsoft has said will follow in early in 2013.
Earlier, Microsoft showed off the
first advertising campaign for the new Surface tablet
.
[polldaddy poll=6611837]
[
The Verge]