Microsoft Surface Keyboard And Mouse Turn Up At FCC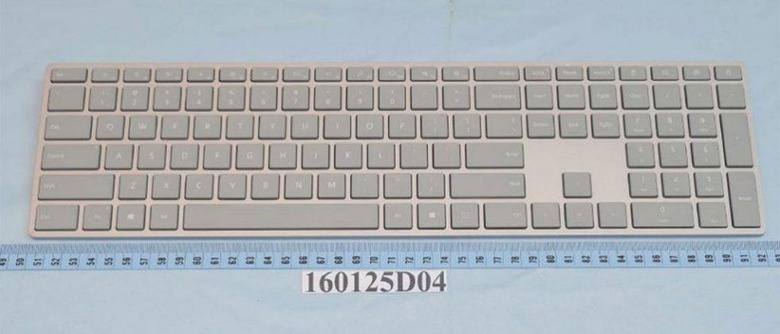 Rumors have been swirling for over a month now that Microsoft will have something new in the Surface realm to show off at some point this month. The rumors suggest that we could see a new Surface AIO computer and perhaps a new Surface Book notebook computer. While we don't have much in the way of details on those devices just yet, we do have some new Surface peripherals to check out.
The FCC has unveiled some images of a Microsoft Surface branded keyboard and mouse. We don't know right now exactly how or when these accessories will be sold. That said if an AIO is coming the mouse and keyboard would certainly be required devices. The keyboard is very flat and reminds very much of keyboards Apple has produced to go along with its Mac computers for a long time.
The keyboard has a number pad, but its small size means that there is no space between the number pad and the other keys as you find on most keyboards today. The keyboard has no ergonomics in its design and if you like Mac keyboards, you might find this to be fantastic.
The mouse is very flat and has no ergonomic contours as you find in most computer mice today. The mouse has dual buttons and a scroll wheel. It doesn't look like Logitech will need to be concerned about people choosing this Surface branded mouse over its offerings. Both the mouse and keyboard appear to be designed more for looks than actual usability with their non-ergonomic designs. We expect to hear more in the next few weeks on what Microsoft has in store.
SOURCE: Thurrott