We know that Microsoft is working in its next version of Windows Phone. The Windows Phone version is being called Windows Phone Blue for now. Back in July of 2013, we heard that the Windows Phone Blue update had been changed to 2014 when it was originally thought to be coming in 2013. With 2014 here, some new details about Windows Phone Blue have surfaced.
A Microsoft slide has leaked that offers up some indication of what the notification center in Windows Phone Blue will look like. The notifications center has quick links for enabling features like Bluetooth and WiFi.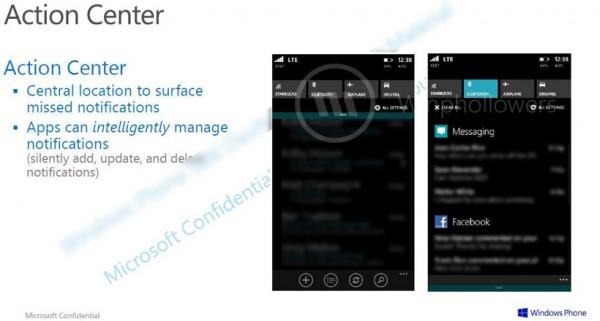 The links also give you the ability to put the device into airplane mode and driving mode. Airplane mode we are familiar with, the Driving mode is something that some users might not be familiar with. Driving mode presumably will involve telling people calling or texting that you are busy driving.
The leaked slide also shows the notifications settings with a list of notices that are pending. While it's not clear from the slide, it appears that the notification center will be accessible by sliding a finger from the top of the screen, as you access similar notification centers on Android and iOS devices.
SOURCE: winphollowers