Yesterday, Microsoft was reportedly going to issue free recalls for some of its power cords, citing potential fire hazard problems for a certain range of the Surface Pro cables. Now Microsoft has made that official. Redmond is starting a voluntary replacement program for Surface Pro AC power cords that were sold before March 15, 2015 in the US and Canada or before July 15, 2015 in other markets. But, given that the Surface Pro power line comes in two pieces, which is exactly the power cord and which ones are eligible for the free replacement? Microsoft has pictures to clarify.
The gist of it is that the power cord is the shorter of the two cords and the one that can be detached from the power supply, which is the brick. That cord is wide, flat and more rigid, in contrast to the power supply's own rounded and flexible cord. According to Microsoft, when these cords are wound to tight, twisted, or pinched over a long time, there is a tendency for the cord to overheat.

But not all power cords are created equal. Some that have been sold are safe to tangle, so to speak. Since these cords don't have serial numbers, it's hard to tell which ones need to be replaced. You'll need to make a visual inspection to double check. The new style power cable has a "fatter" section near the end that connects to the power supply box. The old cable, which needs to be replaced, doesn't.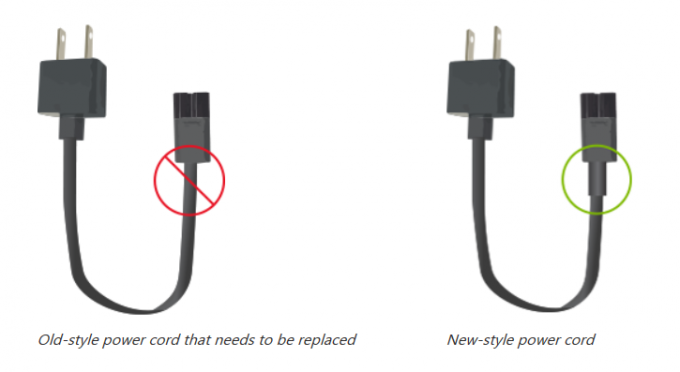 All Surface Pro and Surface Pro 2 owners are qualified for the replacement, while Surface Pro 3 owners will have to check if they need it. Those who do apply for a free replacement can only do so once. They don't need to send back the defective cord either and Microsoft advises users to discontinue using them for safety. That said, it will take 4 to 6 business days before the replacement is shipped, so you'd be out of commission for a while.
SOURCE: Microsoft