Microsoft shows off Spartan, their Chrome/Safari challenger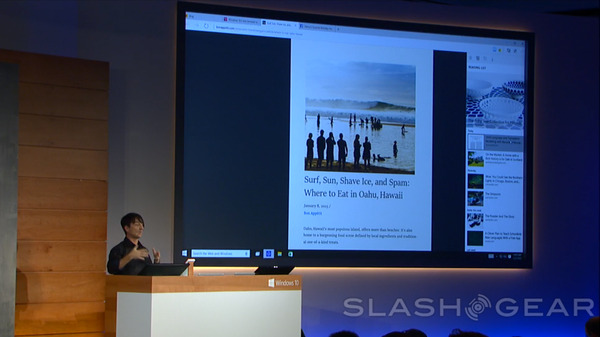 Spartan was shown off at Microsoft's event today, and we now know how Microsoft envisions the browser. After acknowledging that there was indeed something called Project Spartan, we were told all the fun things Spartan will bring us. We will get the ability to mark-up those marked-down webpages, and and migrate efficiently between touch and keyboard interactions. There is also a new reading list, and Cortana is at your side, as always. Rather than re-build the browser, Microsoft is taking the better parts on others and combining them into one.
With Spartan, you'll be able to clip pieces of the Internet and save them for later as a note, but you can also comment or draw on a page. There is also commenting, where you can make notes on a webpage, much like Kinja or Medium.
That's no good unless you can do something with it, though, so Microsoft has integrated sharing right into Spartan. It's reminiscent of Chrome for mobile, with a drop-down that has a long list of ways to share a page, except you can mark-up or comment on what you're sharing.
A new reading list is also coming to Spartan, which is very much pinched from Apple's Safari. You can read web-pages simply and easily, and save pages to a reading list for viewing later on. Spartan also has PDF support.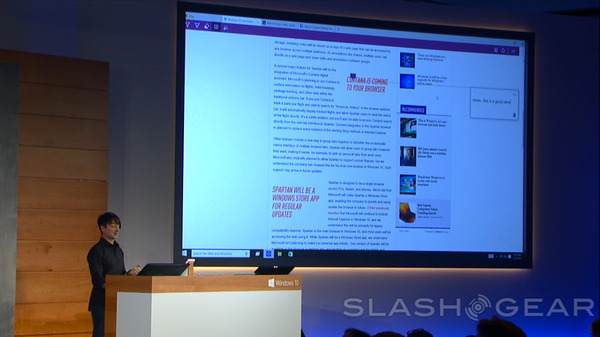 Microsoft also wants you to be productive, so they're building Cortana right into the browser. If you start typing in weather, she'll give you the weather info right from your address bar.
In an interesting use-case, Joe Belfiore of Microsoft gave a scenario in which his wife was flying into town on Delta, and he was checking her flight. As he typed in 'Delta', her flight info came up, because Cortana knew about it from earlier "learning". Rather than giving you basic info, Cortana anticipates your wants and feeds you info you might be looking for.
Cortana also scours the internet to give you info on places you might be visiting. Check out a restarant home page, and Cortana might also show you reviews via Yelp, as well as contact info — without having to search for it yourself.
Like all things Microsoft today, we've got no go-live date for Spartan, but it's a positive step forward for Microsoft's browser ambitions.