Microsoft Sculpt desktop accessories offer health-centric ergonomic designs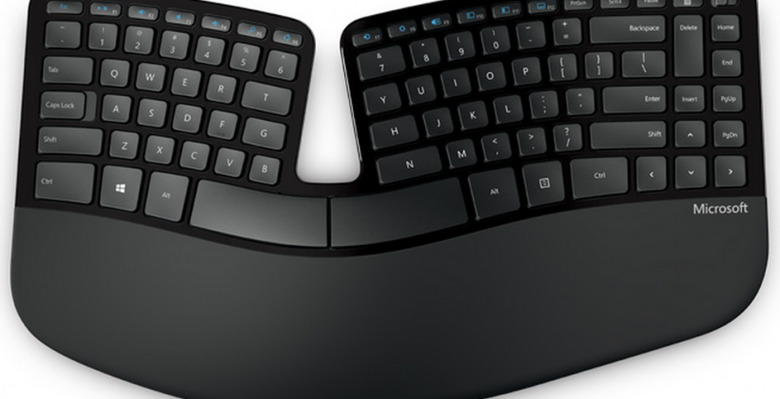 Those who spend any significant amount of time every day at their desk know the discomfort that can result from an improper work setup, whether it be a stiff back or a pinched nerve. Such was reflected in a Healthy Computing Survey conducted by Microsoft, which it made available today to coincide with the launch of two ergonomic desktop accessories: the Sculpt Ergonomic Desktop and the Sculpt Comfort Desktop.
The Sculpt Ergonomic Desktop is composed of the Sculpt Ergonomic Keyboard and Sculpt Ergonomic Mouse, the former of which features an angled, split keyboard with a separate numpad device and a deeply grooved mouse. Says Microsoft, the design was meant to help position the user's forearms in a more natural positions alongside a cushioned palm rest for a neutral wrist position. The mouse is designed to help reduce carpal tunnel.
The Sculpt Comfort Desktop is composed of the Sculpt Comfort Keyboard and the Sculpt Comfort Mouse, which differs from the Ergnomic offering somewhat. The keyboard is contoured rather than split and there's a detachable palm rest. The space bar is split to include a backspace for what Microsoft says is more efficient typing. The mouse offers a Windows touch tab for swiping through Windows 8.
According to Microsoft, these latest two offerings are the latest update of the Natural line it launched in 1994 – the same year Star Trek: The Next Generation ended, it doesn't fail to point out. One of the goals of this latest design, says the company, is to offer "something beautiful" despite being ergonomic.
The Sculpt Ergonomic and Comfort Desktop accessories line will be launching some time this month, currently showing up on Microsoft's website but not yet being available for purchase. The Sculpt Ergonomic Desktop is priced at $129.95 USD, while the Sculpt Comfort Desktop is priced at $79.95 USD.