Microsoft "Scroogled" Store Reinvigorates Public Google Harassment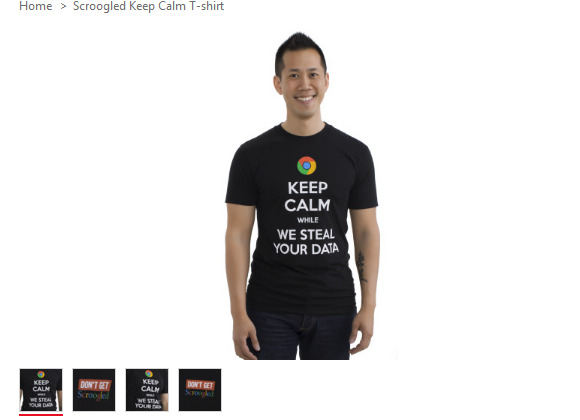 Microsoft today opened a fantastic new store within its larger Microsoft Store just in time for the good cheer of the holiday season. That store is called "Scroogled," and it is your go-to source for the Google-hating loved ones in your life. Buy an anti-Google coffee mug or anti-Google shirt and show you really care about Microsoft. Er, about your loved one.
Or buy a little anti-Google paraphernalia for yourself, if you feel inclined to treat yourself. Browse the store while grinning with life-affirming schadenfreude at the menacing spider with the Google Chrome logo emblazoned on its back that serves as the Scroogled store logo. The spider symbolizes the Google search crawler, but in computer land the arachnid also connotes viruses. Nasty, nasty.
"Step Into Our Web" reads one of the t-shirts for sale, accompanied by the aforementioned Scroogled logo, just $11.99 from Microsoft. "Keep Calm While We Steal Your Data" reads the coffee mug, with a Chrome logo tastefully accenting the PSA ($7.99.) A cloak-and-dagger trenchcoat-wearing figure whose head is a Chrome logo says "I'm Watching You" on another t-shirt offering.
The store is part of a year-long campaign on the part of Microsoft to go for Google's jugular in the eyes of the populace. It's a full-frontal branding assault, intended to be tinged with lightheartedness but also quite serious in its accusations. Microsoft launched Scroogled last year to thumbs-down the paid advertising that started appearing in Google's search results. It expanded the campaign earlier this year to decry Google's use of private Gmail data in serving ads.
But Microsoft's competition-bashing came to an abrupt pause this September after it opened up a new war front (one it couldn't sustain, much like a land war in Asia), this time on Apple. The campaign was admitted by Microsoft to be "off the mark," so it pulled that campaign. Frankly, we're glad the company is back fighting the good fight. Nothing says "entertainment" like a word cloud full of synonyms for "getting screwed by Google."
SOURCE: The Verge