Microsoft ending "Scroogled" TV campaign against Google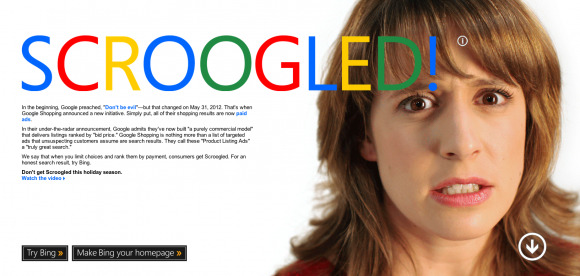 Looks like Microsoft is slowly winding down its "Scroggled" advertising campaign against Google. Microsoft's senior director of online services, Stefan Weitz, says that the company will be ending its Scroogled television advertisements, but will keep the website up and running, which means that the whole campaign isn't dead, but it could spell the end soon.
Speaking to TV and radio station KQED, Weitz says that the Scroogled ads running on television, in newspapers, and on social media are "about finished." However, the company is still keeping the Scroogled website alive in order to warn users that Google is reading its users' email and delivering biased results in Google Shopping, as well as sneaking around through their Gmail to deliver catered advertisements.
Of course, the end of some of Microsoft's campaign efforts doesn't mean that it wasn't a success. The petition that the company started to "tell Google to stop going through your email to sell ads" received over 110,000 signatures, and Microsoft initially only set a goal of 25,000. So, in a way, the ads were a success.
However, Google is seeing no drop in userbase in both Gmail and Google Shopping, so in the long run, even if Google users have been paying attention to Microsoft's campaign, it looks like it's not enough to coax Gmail users from switching over to Outlook, or any other email service for that matter.
[via KQED]