Microsoft Reportedly Planning Three New Surface Tablets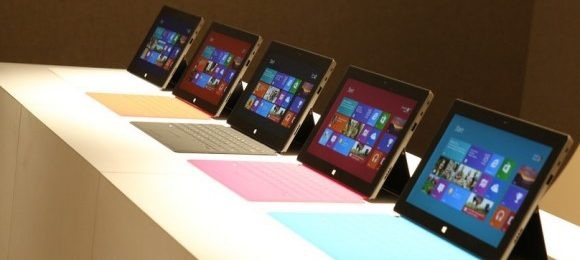 Well, this is interesting: it turns out that Microsoft might be planning as many as three new Surface tablets for release next year. Hardly surprisingly, considering it's clear Microsoft wants Surface to become a household name like some of the other devices floating around out there, but it does seem that the rumor is getting to work on this one especially early. Apparently, these three new Surface tablets include follow ups to Surface RT and Surface Pro, along with a new device called Surface Book.
This information comes from Twitter user @MS_Nerd (protected account), who says that Microsoft could launch all three of these devices as early as next year. Details are pretty slim, but we hear that Surface 2 comes equipped with a 8.6-inch screen and is powered by a Qualcomm processor. Surface Pro 2 can reportedly boast an 11.6-inch display and an AMD Temash processor, while Surface Book is outfitted with a 14.6-inch screen and an Intel Haswell processor, leading some to believe that it could be a convertible notebook/tablet.
Digital Trends points out that the Haswell and Temash chips aren't scheduled to launch until later next year, so these new devices would almost certainly launch in late 2013 if Microsoft is indeed plotting to release them next year. As we said above, that Microsoft is planning follow ups to Surface RT and Surface Pro is no surprise, but it's important to remember that Surface Pro doesn't even have a solid release date yet – we've only heard that it should be out sometime in January 2013. With that in mind, it's probably a good to remain on the skeptical side with these rumors.
Just as well, we recently learned that Microsoft cut Surface orders in half due to underwhelming demand, so whether or not these projects actually get off the ground could depend on how well Surface Pro does when it's released next year. We'll just have to wait and see, and don't expect Microsoft to begin talking about these new Surface devices for months yet. In any case, keep it tuned here to SlashGear, as we'll update you once we hear more.