Microsoft releases new Office 365 packages for businesses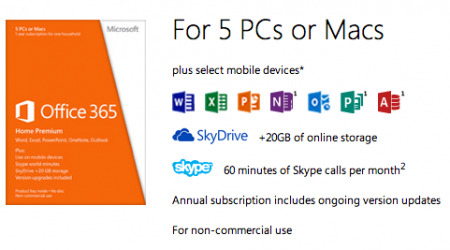 Microsoft has released a new update for its subscription-based Office program, Office 365, that provides new options geared for business users. There is the new Office 365 Small Business Premium that's geared towards businesses with about 1 to 10 employees, Office 365 Midsize Business, which is geared towards businesses with 10 to 250 employees, and Office 365 ProPlus, which is included in both the Small Business Premium and Midsize Business package, but is geared towards users who want Office on the go.
Office 365 Small Business Premium offers the user 5 ProPlus licenses that they can use to install Office on their PC or Mac. It also gives you access to the web-based versions of Office products. It includes business-grade email, shared calendars, website tools and HD video-conferencing capabilities. Office 365 Small Business Premium costs $150 per user, per year, which equals roughly $12.50 per user, per month. It's user-friendly, so you will not need your IT department to help you set everything up.
Office 365 Midsize Business offers the same benefits of Small Business Premium, however it also offers enterprise-quality communication services and collaborates with Exchange Online, Lync Online, and Sharepoint Online. It is user-friendly, and it includes Active Directory integration alongside a web-based administartion console and "business-hours" phone support. It makes managing your huge office a much easier task. The cost is $180 per user, per year, which is about $15 per user, per month.
Office 365 ProPlus, offers 5 licenses to install the Office software on PCs or Macs, and it also allows you to access the Microsoft Office 2013 via the web. You can access your Office 365 from any device, with all of your documents and settings stored in the cloud. It, however, lacks the business-specific capabilities the other packages offer. It's user-friendly, giving you the tools necessary to update your apps and control various features. Office 365 ProPlus is offered at $144 per user and is meant for businesses who don't find the other two packages appealing.
Alongside these three new offerings, Microsoft is also keeping its original business offerings for businesses that don't need the whole package. So for businesses that are satisfied by just using the Office web-based apps, or businesses that only need access to enterprise-grade email, those cheaper options will still be available for you. Businesses can also test-run the new Office 365 business offerings without paying a cent. They can get a feel for the products before they commit to it.
[via Microsoft]