Microsoft releases Computing Safety Index for Safer Internet Day 2014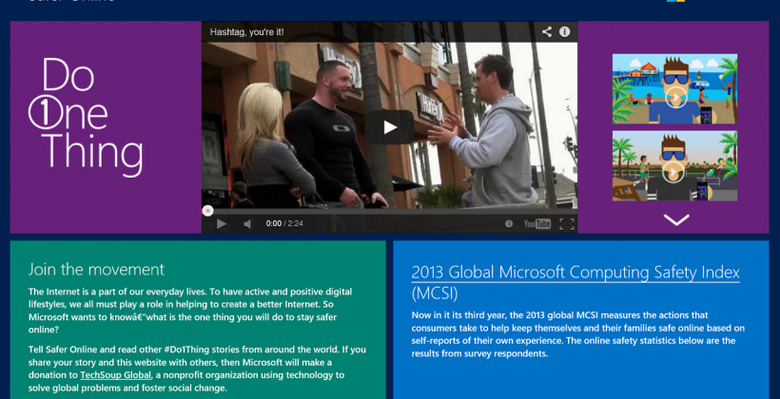 Today is the 11th annual Safer Internet Day, and upon it Microsoft has released its 2013 Computing Safety Index report, which details various means consumers take to stay safe online. Using the data from this latest report, the company has also augmented its Internet safety campaign of sorts called Safer Online, which invites Internet goers to hop on board.
Microsoft has been releasing its Computer Safety Index, more commonly called its MCSI, since 2011, doing so using self-reported consumer efforts to stay safe in the vast trenches of the Internet. The Index covers constantly-evolving steps consumers take based on technological changes that occur over time, with the latest report referencing data from over 10,000 adults across 20 regions and countries.
The steps consumers take are broken down into three categories: Foundational, Technical, and Behavioral. The former references simple things like utilizing a firewall and automatically installing updates, while the Technical category encompasses things like using a PIN on a smartphone and restricting public access to social networking profiles. The last category, Behavioral, extends to things like avoiding using the same password on multiple websites.
Scores for foundational protections are said to be "relatively well", and 60-percent of those who participated report believing they are ultimately the best means for protecting their own information, rather than dependence on outside entities. Microsoft says that belief doesn't appear substantiated by the numbers, however. A total of 21-percent surveyed used Web browser filters, 31-percent took steps to protect their online reputations, and 36-percent take efforts to limit personal information online.
Of the respondents, 13-percent said they've experienced damaged professional reputations online, 9-percent have suffered a compromised identity, and 15-percent have been affected by phishing attacks. Microsoft has made an abbreviated version of its survey available, as well, to give Internet goers a chance to evaluate their own scores.
VIA: NDTV
SOURCE: Microsoft, Safer Online