Microsoft Race to Market Challenge: four Surface tables to win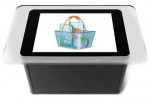 Microsoft have thrown open the doors to Windows Marketplace for Mobile app store submissions, and to tempt developers away from Apple and other rival platforms they're offering some significant prizes.  The Microsoft Race to Market Challenge will judge entrants in four criteria categories, with the winners each taking away – among other things – a Microsoft Surface multitouch table worth in excess of $10k.
Other aspects of the prize package include a "one of a kind" trophy for you to put on your mantelpiece and plenty of promotion from Microsoft themselves.  The categories include:
Most downloads of a free application
Most valuable application (judged by downloads x price)
Most useful application (judged by a Microsoft panel)
Most playful application (again, judged by a Microsoft panel)
Entries to the challenge will be accepted until December 31st 2009, and you can find the full details here.  As for how the Marketplace for Mobile submissions process will work generally, there's a lengthy 28-page PDF here which explains it all; perhaps the most important details are that Microsoft are promising approvals in 10 business days or less, and that the much-discussed $99-for-five-submissions fee is still in place.
[via jkOnTheRun]