Microsoft pulls Google and Facebook chat from Outlook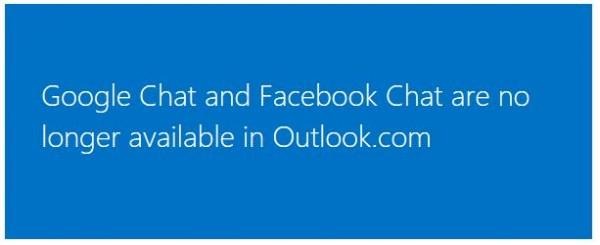 If you logged into your Outlook account today, you were likely greeted with a message bearing grave news (or mention of a feature you didn't even realize was available): Facebook and Google chat are going away. Until now, Outlook users were able to tie in their other accounts and chat with contacts on both of those aforementioned services — something that was incredibly convenient and oft requested. All of it is set to fizzle away in the next few weeks, however, and Microsoft isn't being 100-percent clear about why.
According to the email, Google pulling the Google Talk chat protocol is the reason Microsoft will be removing the Google chat feature from Outlook "within the next couple of weeks". That is a big disappointment, but seems justifiably beyond Microsoft's control, and so users will have to deal with it.
The reason for doing away with Facebook chat in Outlook isn't so clear. Microsoft merely says that it'll be discontinuing it in a couple of weeks, and that's that. No explanation for why this is happening was provided. On the bright side, Microsoft says that Google and Facebook accounts can still be connected for monitoring friends via People.
What is one to do in light of this news? Microsoft's hoping you'll give Skype a try instead. "We're confident that Skype for Outlook.com provides the best experience for chatting and making voice or video calls, right from your inbox," says the company in its email to users.