Microsoft Previews New Games Hub For Windows Phone Mango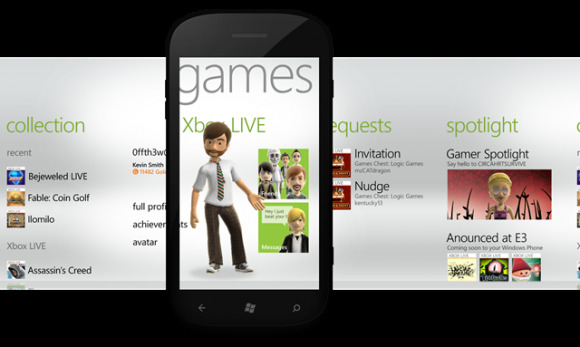 Microsoft today revealed new details on their updated Games Hub for Windows Phone Mango. Xbox LIVE is fast becoming the pervasive games and media platform for Microsoft's ecosystem, with recent announcements that Windows 8 will have Xbox LIVE built-in. Hence, the new Games Hub will now have front and center many of the features that were originally available only in the Xbox LIVE Extras app.
However, the first thing you'll notice is a revamped Games Hub interface in Mango. The new look is cleaner and lighter, continuing on the Metro UI, so that the focus is on your game collection and Xbox LIVE info without any other distraction. The speed and performance of the UI have also been tweaked and enhanced.
There's an improved Collection view with large icons on the left and names listed on the right. A new Recent category will now show the last three titles you've played when your entire collection exceeds 20 games, which can happen pretty quickly. This makes it easier to navigate to your favorite games when your collection gets too large. New 3D avatars have also been introduced and now they have more attitude. The avatars yawn, wave and do various other actions like dancing when you shake your phone.
Best of all may be the integration of Xbox LIVE Extras app features. Those include Xbox LIVE messaging, friends, and achievement comparison views. You can also edit your profile now directly from your phone. Spotlight content and game request notifications have also been improved.
[via Windows Team Blog]