Microsoft Outlook finally gets Dark Mode on Android and iOS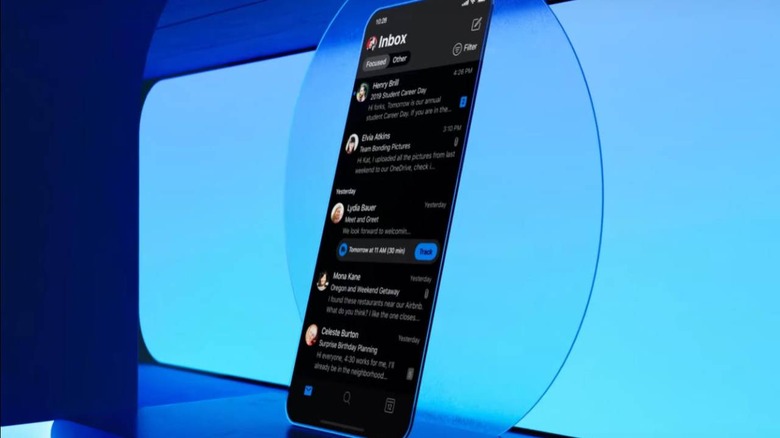 Microsft is finally bringing a proper Dark Mode to its Android and iOS apps for Outlook, the company's email service, as well as the Outlook.com website. The company announced the rollout on Wednesday, explaining that it will also bring its Dark Mode to 'the broader [Microsoft] 365 product suite.' This Dark Mode is the result of what Microsoft calls a cross-company design collaboration.
Dark / night modes have become very popular among consumers, leading to the launch of proper darker designs on a number of platforms, including Twitter and Reddit. Microsoft points out that these dark modes are trickier than they seem — the company has to redesign its product in a way that emphasizes black and grey shades while remaining aesthetically pleasant and fully useable.
In its announcement today, Microsoft said its own dark theme — which it simply calls Dark Mode — will be automatically enabled for users starting with the next versions of iOS and Android, assuming the user has their device set to display the system's respective dark mode. Until then, Outlook's Dark Mode automatically turns on for Android users when they enable Battery Saver.
The Dark Mode retains a number of colorful elements that are designed to draw the user's eyes toward information that matters, but without compromising the dark nature of this theme. Dark Mode's background is solid black, whereas messaging boxes and similar fields are a dark grey color.
Dark Mode will arrive in other Microsoft apps for M365 customers, including PowerPoint, Excel, and Word, with the arrival of iOS 13, according to the company. Microsoft is also planning to release Dark Mode for OneDrive and Planner on the Web, though it's unclear when that will happen.