Microsoft OneNote for Android takes on Evernote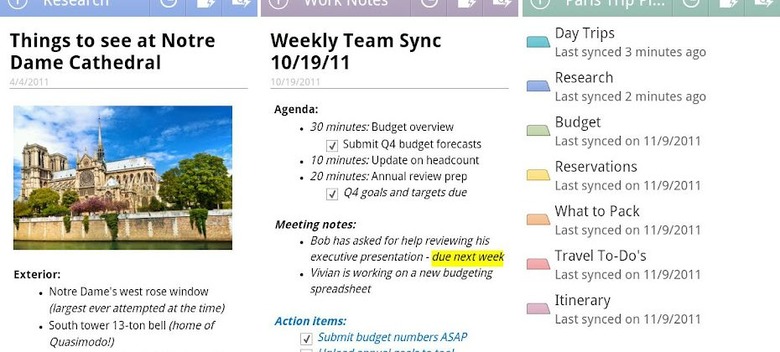 Microsoft has brought its OneNote digital notetaking app to Android, the latest cross-platform push from the Windows company as its software teams spread their wares beyond their own PC, gaming and mobility devices. A free download from the Android Market, OneNote allows you to create text and image notes and sync them across to the full Office 2010 version as well as the web-based viewer using SkyDrive storage.
Notes can include checklists for easy task management, and bullets for lists. However, unlike the full version of the software, there's no support for handwritten notes, and inked notes created on a PC can't be viewed on the Android app. There's also no voice note support, and early-adopters have been complaining about the absence of a widget.
It's a shame, as OneNote has always been the great unsung hero of Microsoft's tablet strategy; in fact we've gone on record before as saying the company could do a whole lot worse than make it their centerpiece of an iPad-alternative tablet strategy. This is only the first-gen release, though, so hopefully Microsoft will tweak the functionality in an upgrade.
The free version of OneNote supports up to 500 notes; if you want to create more, you'll need to upgrade to the paid version (which is £2.99 in the UK). You'll need an Android 2.3 device or above in order to install it.
[via Android Community]