Microsoft Office now better for touch, multiple devices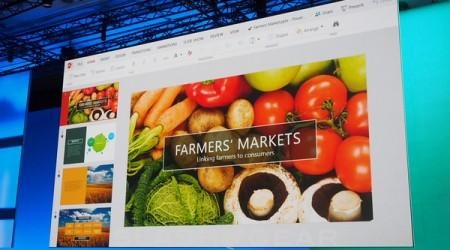 Along with a new Windows Phone and personal search assistant, Microsoft also revamped Office a bit. The newest version of Office is just as functional, but drops quite a bit of the utilitarian feel of former iterations. It's been optimized for all screens, which seems to be a hallmark of BUILD 2014.
Office is getting a UI upgrade, and looks a lot cleaner and simpler than before. It's been optimized for touch as well, with the top ribbon bar made easier for use on touch enabled devices. Microsoft didn't show off Word or Excel, though they will arrive with Powerpoint at the same time.
The touch utility for Office underlines another of their key points today, and that's all apps acting the same across all Windows screens. That makes this change important for all Windows users, and could serve to encourage some users (enterprise, especially) onto their mobile platform. It also makes the ongoing push for all Windows PCs to be touch enabled that much more important, moving forward.
This is another step in bringing their traditional desktop services to the mobile world, as they recently released Office for iPad as well. Though it took some by surprise that Microsoft would release a newer version of Office for a competing mobile platform, this one may trump that move for a variety of reasons, the least of which is a UI tweak. We're bringing you all the news from BUILD 2014 today, so be sure to check back for all your info on Microsoft and Windows.