Microsoft Office for iOS and Android unveiled in leaked screenshots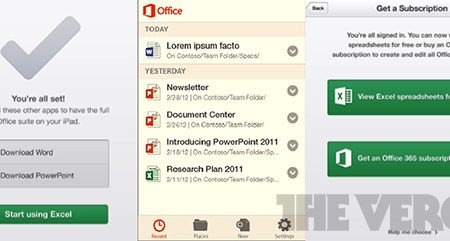 If you needed more proof that Microsoft Office for mobile devices was coming, this is about as good as it gets without an official announcement. The Verge was able to get their hands on a few screenshots from the rumored apps, which don't give us a lot of insight, but they do give us hints on what to expect.Microsoft has mostly remained quiet about its plans for Microsoft Office on mobile devices, but according to multiple sources, the company will release a mobile version of Microsoft Office for iOS and Android sometime in early 2013. And thanks to the screenshots, it seems that Office for mobile devices is very real.
Office Mobile will be a set of free apps that allow mobile users to view Microsoft Office documents on the go. A Microsoft account is required, just like on SkyDrive and other Microsoft services, and it will allow access to view documents. With an Office 365 subscription, users will be able to edit documents through the apps as well.
From the looks of it, Office Mobile will only include Word, PowerPoint, and Excel, which are only a portion of the apps available in the full Office Suite, but they're arguably the most used. The app will allow for basic editing, but it's said that editing features won't have the same functionality as the desktop Office version. In other words, the desktop version will still be the way to go for advanced editing. While Office Mobile is still rumored and not officially announced yet, a company spokesperson did say that "Office will work across Windows Phone, iOS and Android."
[via The Verge]