Microsoft Office finally comes to Android phones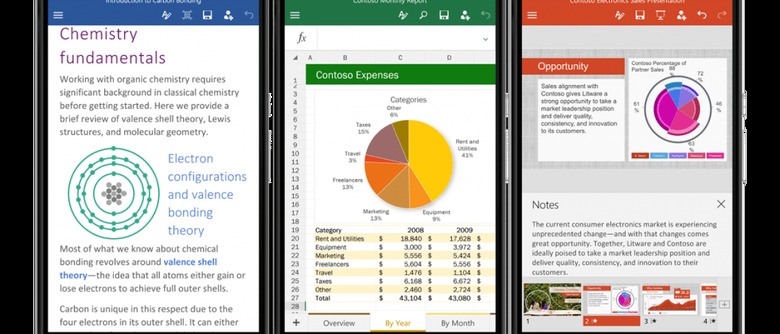 Microsoft Office for Android phones is here. At last, Android users can maximize productivity as well as iOS and Windows Phone users. Until now, if Android users had Office 365 they could use Office Mobile, which was pretty basic. With the new apps, Office 365 users still get an advantage. (Otherwise what would be point of the subscription fee?) While the apps are free to all users, the people without 365 accounts will be limited to opening, editing, and saving files. 365 members will have functionality that almost mirrors the full PC versions. For example, subscribers get a button in the Word for Android app that brings up a pop-up tool tray where you can make changes to layout, format, paragraphs, headers, footers and more without ever having to leave the document.
Last month Microsoft Office offered an Android phone preview in which over 1,900 different models of Android phones around the world could try the apps. It's important to note that the variability of phone models running Android factors in to why Android is often late to the game for app releases. It takes more time to create an app that aims for stability on such a large array of devices.
The presence of Office on Android mobile devices is designed to make connecting with third-party cloud storage apps, like Box and Google, Drive even easier. Of course, they automatically connect with Microsoft's own cloud service, OneDrive.
With PowerPoint for Android, you can make presentations directly from your phone. The slide show should look the same as it would on a PC or projector. Now that the apps have been released into the ether, Microsoft says you can expect them to be pre-loaded on select Android devices from Samsung, Sony, and LG starting next year.
Although the preview was tested on almost 2,000 models, only models running KitKat 4.4 and higher can use the apps. Users should also make sure they have at least a full gigabyte of RAM.
Download the free apps from Google Play:
Word for AndroidExcel for AndroidPowerPoint for Android