Microsoft Office desktop version is now on the Windows Store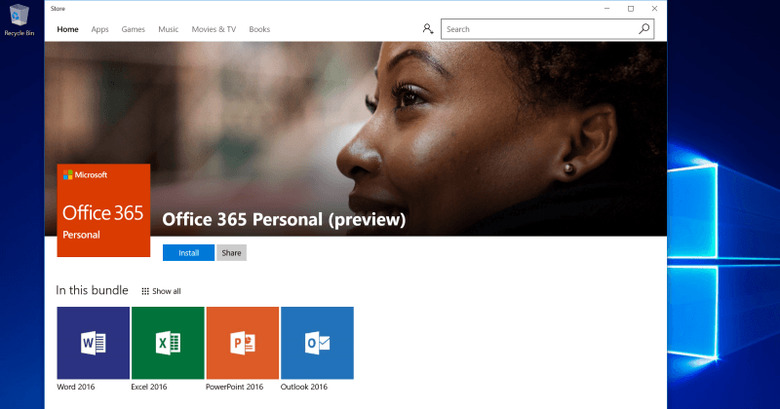 Remember the days when Microsoft was mocked for having half a dozen editions of everything? Those days might be back. There are a few versions of Windows 10 already, with more from the server and enterprise coming soon. And now there are two versions of Microsoft Office in the Windows Store, in addition to the standalone Office suite. The full desktop versions of Microsoft Office applications are now available as a Universal Windows Platform or UWP apps, and we all have Windows 10 S to thank for that.
Windows 10 S, in case you haven't heard, is Microsoft's locked down edition of Windows 10 targeted at the education and enterprise sectors. It only allows installing apps from the Windows Store, which does spell big trouble for these organizations who are beholden to the full desktop versions of Microsoft's Office suite. Fortunately, old Redmond has been working on tools and processes that will make a desktop, a.k.a. win32, application compatible with the UWP system. And that has all lead up to the day when the desktop versions of Office become available on the UWP-only store.
The desktop versions of Word, Excel, and PowerPoint are now available from the Windows Store, but you still need an Office 365 subscription to use them. Fortunately for Surface Laptop owners, the purchase comes with a free year of Office 365 Personal.
OneNote, however, is only available in its Windows 10 UWP version and note OneNote 2016. This could be a huge let down for schools, considering how much Microsoft is pushing OneNote as an educational tool. Also not available for Office 365 Education tiers are desktop versions of Outlook, Access, and Publisher, though those are probably less in use in that sector.
Office on Window Store is still marked as being in preview, so while Office itself is stable, the new installation and update system might not be. Microsoft also notes that given the restrictions imposed by the UWP platform, only the 32-bit versions of Office is available and, even then, old COM add-ins won't work.
SOURCE: Microsoft