Microsoft offers Windows 7 to Students for $29.99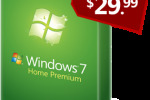 There is one thing that has been common to each version of the Windows operating system released over the years. The new operating systems are always very expensive. Versions of Vista sold for well over $100 is you wanted to upgrade from XP. Windows 7 is set to launch next month and students are being offered what is likely to be one of the best deals on the new OS that we will see.
Notebooks.com reports that Microsoft is offering students Windows 7 Home Premium for only $29.99. That is only a few bucks more than Apple offered Snow Leopard for. To take advantage of the special price you have to make the purchase using an .edu email address.
The special price is available now through January 3, 2010. Perhaps the most interesting part of the offer is that it is in partnership with Digital River meaning the OS you are buying is a digital copy. That would seemingly mean that if you buy today you get to download the full retail version of Windows 7 Home Premium before the official launch. The website for making the purchase in 741.com, and if you buy let us know if you get the download today.
Update: It's a preorder system, no downloads until the OS officially launches.
[via Notebooks.com]