Microsoft offering $15 upgrade to Windows 8 Pro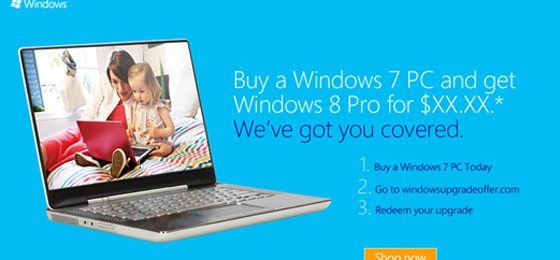 Microsoft will be offering a very low-cost upgrade to Windows 8 Pro for customers who purchase a Windows 7 PC after June 2. According to insider sources of the WinSuperSite, the upgrade will only cost $15 and will help motivate customers who may otherwise hold off on a new purchase until the next-gen platform is released.
It's not uncommon for Microsoft to offer such promotions in the months ahead of a new platform launch, but this time around it's offering customers a direct upgrade to the Pro version of Windows 8 regardless of what version Windows 7 they are currently using.
The offer will kick off around the same time that Microsoft plans to distribute the Release Preview of Windows 8 and is only applicable to purchases made after June 2. Additional upgrades will also be made available for Windows 8 and Windows Media Center in upgrade packs that will replace the current Windows Anywhere Upgrade system.