Microsoft Metro Mouse Revealed on Russian Website, Due in March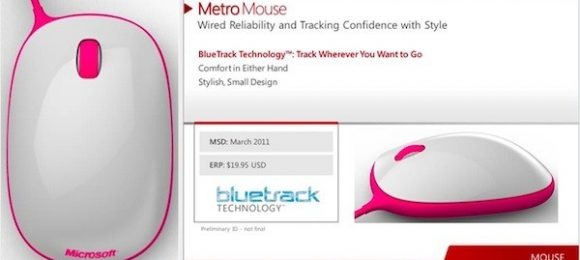 Microsoft just officially announced their brand new Arc Touch mouse, but it looks like that's not the only peripheral the Redmond-based company is hard at work on. If this leak from Russian website TheVista.ru has any merit, then it looks like Microsoft is getting ready to add another gadget to their Metro line-up. Unfortunately, there's not a lot of details to be had at this point, but the listing does give us a couple of noteworthy bullet points.
The first of which is Microsoft's usage of BlueTrack technology. Offering up the reliability of a wired mouse, but giving it to you in a wireless package. What's also interesting, thanks to that BlueTrack tech and the fact that the mouse is rumored to only launch for $20, it would make this Metro mouse the cheapest of the BlueTrack lineage.
As you can probably tell from the image, the mouse is built to be for both right- and left-handed folks. Which means that it will probably catch the eye of a few people out there. No word on color options, though, but hopefully we're not stuck with just one bright shade of pink when it launches in March of next year. If it turns out to be a real device, that is.
[via Ubergizmo]