Microsoft Makes Carbon Negative Pledge: Here's What That Means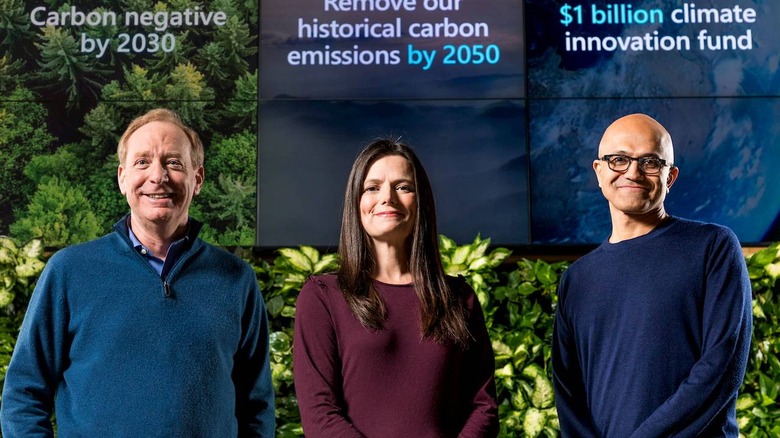 It's overwhelmingly clear that we need to do something about emissions if we want to curb the worst effects of climate change, and a big part of getting on the right track will be getting massive corporations on board. We've seen plenty of corporations talk about their sustainability plans, but today, one of the biggest is detailing what it will do to help: Microsoft.
Microsoft today shared its sustainability goals for the future, announcing that it plans to be carbon-negative by 2030. Microsoft CEO Satya Nadella says that goal doesn't only apply to company's direct emissions, but also to its supply chain as well. Additionally, Nadella says that Microsoft will remove all of the carbon it has "emitted directly or by electrical consumption since our company's founding in 1975," by 2050.
Today, Microsoft announces its plan to be carbon negative by 2030. pic.twitter.com/xtm7NfQaIf

— Microsoft On the Issues (@MSFTIssues) January 16, 2020
In a lengthy blog post published today, Microsoft explains its goals and how it plans to get there. When the company says that it will be carbon-negative by 2030, that means it plans to reduce its carbon emissions by half on top of removing more carbon from the atmosphere that what it emits. The company will do that by shifting to 100% renewable energy for its data centers, buildings, and campuses by 2025 and electrifying its "global campus operations vehicle fleet by 2030."
In addition to this work to make its own operations carbon-negative, Microsoft says that it will also open a $1 billion "Climate Innovation Fund" to help research and create technologies to remove carbon from the atmosphere. Microsoft will also work with its business customers on improving their own carbon footprint, sign the United Nations' 1.5-degree Business Ambition Plan and keep updated on its progress toward meeting those goals, and use its sway with governments around the world to push for public policy related to climate change and carbon.
Microsoft isn't the only massive company to vow to fix its carbon emissions; back in September, Amazon said that it would be carbon-neutral by 2040, pledging to buy 100,000 electric delivery vehicles to meet that goal. Microsoft's goals are arguably more ambitious than Amazon's are, but then Amazon's carbon footprint is likely much higher than Microsoft's given its overwhelming reliance on shipping. We'll see what Microsoft does to meet these carbon goals and keep you updated, so stay tuned for more.