Microsoft Look Ahead to 2019: video concepts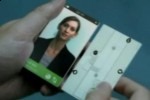 On a Monday morning there's nothing better than some Microsoft sooth-saying accompanied by some motivating music.  The company has put together a concept video of what the computers and mobile devices of the (nearish) future might offer us, with a heavy emphasis on touch control, interaction and modular devices.  Check out the video after the cut.
Particular favorites of mine are the smartphone, with its detachable second display, intuitive "lift it closer to zoom in" mapping, and pico-projected directions, and the "communications history" pulled up by putting two personal devices near each other.  The multi-function e-paper newspaper is a nice gimmick too.
Of course, we'd all have to spend huge amounts on new furniture should any of this come to light, as desks are no longer just for resting your computer on but the computer display themselves.  Still, I'm going to start touching my table in preparation for the inevitable multitouch future.
[vms 17e56e07902b254dfad1]