Microsoft Kinect used to read sign language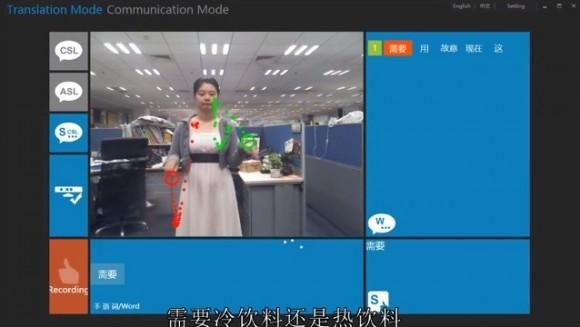 The Kinect has largely been a device meant for gaming on the Xbox 360, but since its release, it's been hacked and modified in so many ways. We've seen many different projects arise from the use of the Kinect, with the latest one being from Microsoft themselves, where they're experimenting with sign language detection with the Kinect sensor.
Microsoft's Research division in Asia have been playing around with some new software that gives the Kinect sensor the ability to read most gestures in the American Sign Language using hand tracking technology that's in the Kinect. The software can also allow non-deaf users to input text and sign it.
The software looks to be surprisingly accurate, even when going at quick, conversational speeds. The software even gives the Kinect the ability to parse whole sentences and flow gestures into the next, which not only looks impressive in the video below, but it could change the way we communicate using sign language.
This basically means that deaf people could eventually talk to their computers or game consoles using sign language gestures. The Kinect allows users to speak commands in order to complete a certain task without pressing buttons, but sign language detection could a completely new level to accessibility options to the Xbox.
Of course, this is still something being tested on in a lab, and it could be awhile before we hear anything about the technology making its way to the public, but it definitely seems like something that isn't too far-fetched and could easily make its way to the Kinect at some point in the future.
SOURCE: Microsoft