Microsoft just announced three new Gears of War games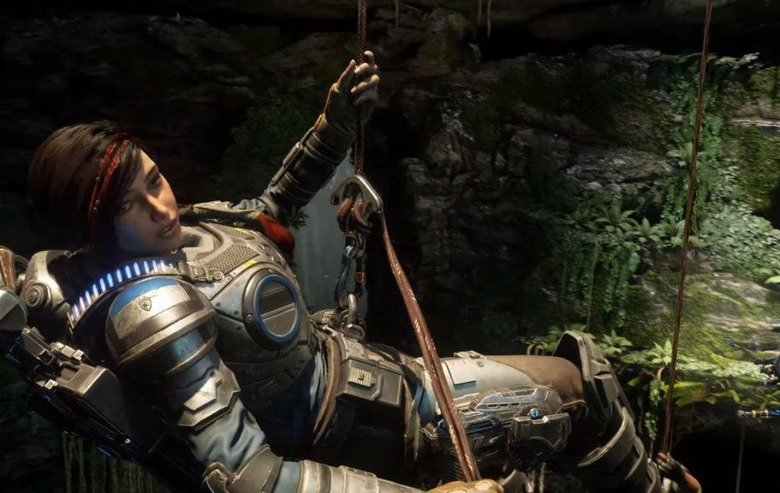 If you went into Microsoft's E3 2018 press conference expecting Gears of War reveals, you certainly got them. Microsoft revealed a trio of new Gears of War titles today, including Gears 5. The other two games are going to provide interesting takes on the long-running franchise, especially if you happen to like collecting Funko Pop figures.
Yes, one of the games Microsoft announced today is a new mash-up with Funko Pop, if you can believe it. We don't know very much about this new title, called Gears Pop, but we know that it's a mobile games and that the characters will all be modeled after Funko Pop vinyl figures. We'll be waiting a while longer to find out more, as Gears Pop won't be landing on iOS and Android until sometime next year.
The next title Microsoft announced is called Gears Tactics. Fairly self-explanatory from the title alone, Gears Tactics will take the settings, protagonists, and enemies from the mainline franchise and put them into a turn-based tactics game that seems to share at least a few similarities with XCOM. Microsoft says this will be a "true PC strategy game," so if you're a fan of the genre, this is definitely one to watch.
Finally, we come to the star of the trio, Gears 5. The latest entry in the main Gears of War series will follow Kait Diaz as she attempts to solve the mystery of the medallion she received at the end of Gears of War 4. Microsoft says this will be the "biggest, most beautiful Gears world ever created," and you can get your first glimpse of it in the reveal trailer below.
Microsoft has also confirmed that Gears 5 will feature local and online co-op modes, though you can of course play the game solo if you prefer. Regardless of the mode you choose, they'll all play in 4K at 60 frames per second on Xbox One X. It'll be a while before Gears 5 is ready for the masses, as it won't be releasing until sometime in 2019. We'll find out plenty more in the time between now and then, so we'll definitely be keeping an ear to the ground for more.