Microsoft integrates Facebook tagging into Bing search results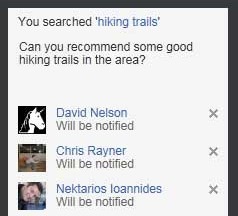 There a lot of things that people all around the world search for daily using a search engine such as Google or Bing that could benefit from more personalized results from offered by friends. For instance, if you're looking for a good Italian restaurant in your city, it would help greatly to know if your personal friends on Facebook know one and have eaten there rather than simply relying on addresses returned in search results.
Microsoft has announced a new feature for Bing that's actually a very good idea. Bing will now allow you to tag up to five Facebook friends on the search sidebar and share a search you make to get direct input from friends. The question will be posted to your Facebook Timeline automatically and the friends you tag will be notified.
Microsoft has offered several examples of how the feature can be used, and these are examples I think a lot of people can relate to. You could ask friends who have traveled to a vacation spot you plan to visit what they think of the hotel or a beach. You could ask your foodie friends if they have tried a specific recipe, or you can invite friends to a specific location for a get-together using the feature.
This new feature is a small tweak to the social sidebar that Microsoft added to Bing a few months ago. Is this feature interesting to you? I'm not sure we will ever see a similar feature from Google considering how hard the search giant is pushing Google+. Watch the video below to see more details on the new feature for yourself.
[via CNET]