Microsoft Employees Celebrate Windows Phone 7 RTM Status by Holding Funeral for iPhone & BlackBerry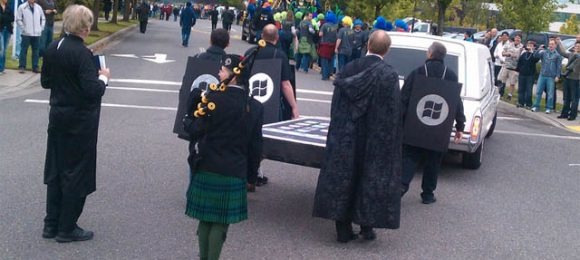 First, Microsoft announced that Windows Phone 7 had reached RTM status. Then, there was the video that told us the revolution was coming. It all mounted into a rumor that Microsoft's newest mobile Operating System would be launching on October 11th. But, it gets better. When Microsoft announced that WP7 reached RTM, some employees actually went out into the streets of the Redmond-based campus and celebrated in a very unique way. With a funeral.
The parade was arranged last week, and it was set up to be the march of a funeral. There are black capes and hearses. And, if you look at the picture above, you'll notice that the employees are indeed carrying a very large depiction of Apple's iPhone. But, they were also carrying giant BlackBerry handsets, too. Employees were reported as saying that they "had buried the competition" with the upcoming launch of Windows Phone 7.
The procession made its way through the campus, showcasing for anyone looking the company's proclamation that the iPhone and BlackBerry are "dead." It's good to see that Microsoft is putting a lot of attention into Windows Phone 7, even if some folks out there may believe this is in poor taste. If the launch of WP& is indeed coming in October, we don't have long to wait at all — so we'll see if their hard work has paid off.
[via Neowin]