Microsoft Edge users can now block advertising with AdBlock Plus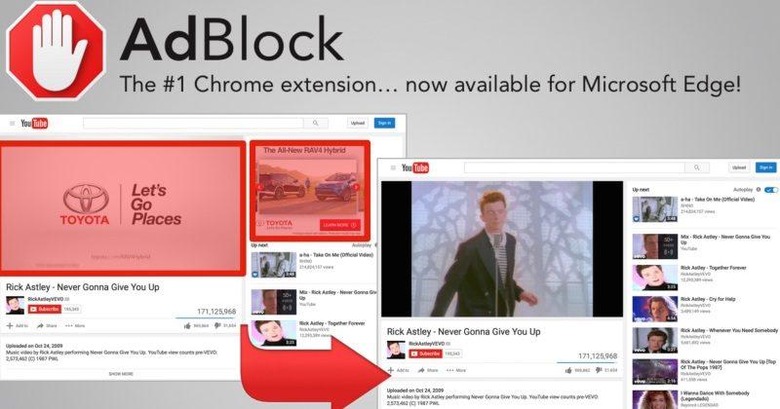 Good news for Windows 10 users: you can now block internet ads in the Edge browser just like those with Chrome and Firefox do! Extensions for both the AdBlock and AdBlock Plus services have come to Microsoft's new browser, and are now available on the Windows Store. There is one small requirement, however, and it's that users need to be Windows Insiders with build 14291 on the desktop.
Non-Insider users will still need to wait until this summer to take advantage of extensions in Edge, when the Anniversary Update for Windows 10 is released to the public. Once that's out, the Edge browser will actually become much more functional for those using Chrome or Firefox. To switch from either of those without the option for extensions creates a much more limited browsing experience.
As for AdBlock and AdBlock Plus, they were each first announced for Edge some two month ago. Now that they've arrived, they bring many of the same features as versions for other browsers, including controls over what type of ads to block, as well as whitelisting website where it's ok to display ads.
As ad-blocking tools have been among the most requested extensions for Edge, this will likely make many Windows 10 users happy, or at least those in the Insider program. Once users have downloaded and installed AdBlock or AdBlock Plus, they just need to restart Edge and adjust any settings in the browser's extensions section.
VIA Neowin [AdBlock, AdBlock Plus]