Microsoft Edge launches support for iPad and Android tablets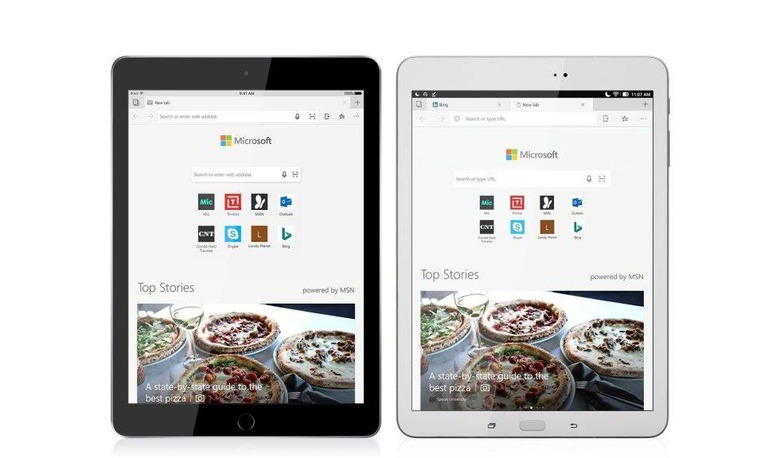 The debate over which browser is the best has been going for nearly as long as the internet has been around. Though Microsoft's Internet Explorer was once the butt of many jokes, the company has been doing some neat things with Microsoft Edge, which was introduced alongside Windows 10. If, by chance, Microsoft has managed to win you over with the features in Edge, then here's a bit of good news: It's available on more platforms beginning today.
Microsoft has announced that Edge is now available to everyone using an iPad or an Android tablet. We knew this day was coming up quickly, as Microsoft launched a beta test of Edge on iPads earlier this month. The fact that the browser is also coming to Android tablets today is a happy – though not entirely unexpected – surprise.
Edge on tablets is going look very similar to Edge on smartphones. There isn't a whole lot that's new here, aside from the obvious addition of support for larger screens. Edge's "continue on PC" feature is also present in these tablet apps, so assuming your phone has been linked to your computer, you'll be able to share webpages between the two with the tap of a button.
Other than that, though, these are essentially the smartphone apps optimized for the larger screen of your tablet. That's not necessarily a bad thing, but as The Verge points out, it means that Edge is missing some features you would expect on a tablet. This is especially evident in the iPad version of the app, which doesn't have any kind of splitscreen support for the iPad Pro.
The hope, of course, is that Microsoft improves the tablet versions of Edge over time, instead of just optimizing them for larger displays and stopping there. We'll see if Microsoft eventually launches some more tablet-friendly features for Edge, but for now, the newest version of the app can be found over on the iOS App Store [download] and the Google Play Store [download].