Microsoft Edge browser's Extension are here, almost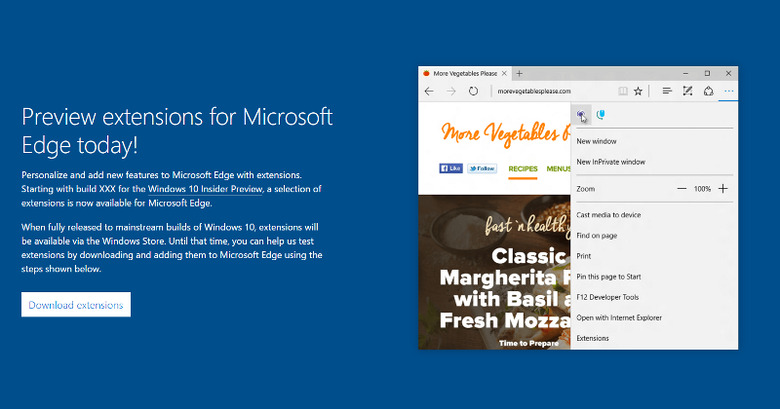 It's been quite a while since Microsoft revealed the Microsoft Edge browser, which came with Windows 10. For a time, it was hailed as the bringer of death to Internet Explorer. While that might be true to some extent, with Microsoft forcing it on users, Edge hasn't exactly been a wild hit in as far as the browser wars go. Compared to the likes of Firefox and Chrome, the Microsoft web browser still lacks some meat, particularly with extensions. That might soon be a thing of the past, if this latest "accidental" leak will come to pass soon.
This isn't the first time we've seen signs of Edge Extensions coming, so take this one with yet another pinch of salt. Like before, Microsoft itself supposedly published, and then subsequently pulled, the page revealing it all. But, of course, not before someone snagged evidence of it. This time, however, there is a bit more detail available about those extensions.
Apparently, the first three extensions that will be made available are Microsoft Translator, Reddit Enhancement Suite, and Mouse Gestures. Apart from the Reddit extension, the batch is mostly Microsoft products, not surprising. They are described as their names so plainly convey. Microsoft Translator can parse the current website into another language while the Mouse Gestures lets you wave your mouse almost like a magic want, with the right button down, of course.

During the testing phase, when Extensions will be available to Microsoft Insiders first, extensions have to be downloaded and manually installed via .exe files. Worry not about security and malware as the final version is promised to be coursed through the Windows Store when launched to the public.
When that will be, however, is the big question. Given the clues, it could well be on its way to Insiders soon, maybe in a few weeks tops. It will go through a round of testing before it even lands on the common user's Windows 10 computer. Microsoft does seem to be taking its sweet, silent time to get it out the door. Perhaps due to overcaution considering Internet Explorer's notoriety. But it should do it soon. And it should probably have a better first batch of extensions.
VIA: MSPoweruser