Microsoft delays Surface Hub to January 1 because too popular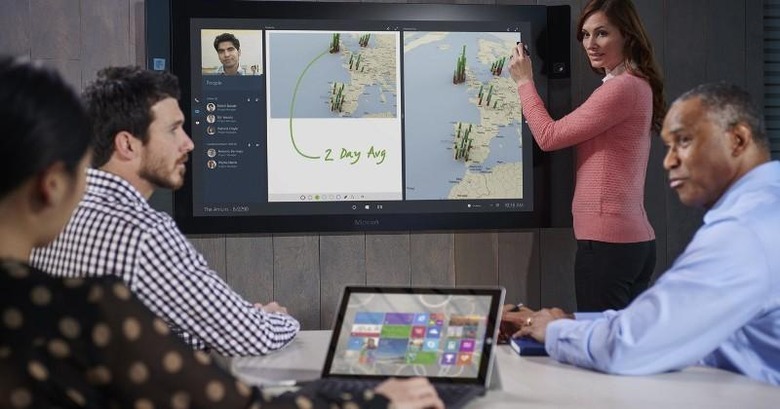 It seems that one of Microsoft's promised products will fall back farther than the highly anticipated Windows 10 Mobile rollout. Updating its blog post on the Surface Hub, the company has revealed the updated shipping schedule for its "wall computer". Instead of September, the date is being pushed back as far as January 1 next year. The reason for the delay is, ironically, because there's a stronger demand for the Surface Hub than Microsoft anticipated, forcing it to adjust its production process and schedules for a more massive undertaking.
You wouldn't think there might be that strong a demand, considering a Surface Hub will cost you either $6,999 or $19,999 depending on the configuration you choose. The 55-inch Full HD version powered by an Intel Core i5 naturally has the lower price tag. Those with the budget might have opted for the larger 84-inch model with a beefy Core i7 and 4K resolution to match the cost.
The price tags can be justified by the fact that this isn't really an end-user consumer device. Surface Hub targets offices and meeting rooms, trying to take out the drudgery in meetings and presentations. The TV-slash-tablet makes use of both touch interactions as well as, of course, the S Pen. It can even support two simultaneous S Pen inputs for collaboration or debate. Running on a customized Windows 10, the Surface Hub can run almost any Windows app known to man, which hints that this can do much more than just serious work.
Unless you have the dough, it's unlikely you'll be able to get even the smaller 55-inch Surface Hub. But if you're willing to swap Windows 10 for Android and incur a bit of a risk, you could try your luck with the TouchJet WAVE, which aims to do just the same thing but for any TV with HDMI input. Given it's a crowdfunding thing, however, it has even less certainty than a Surface Hub shipping date.
SOURCE: Microsoft
VIA: CNET