Microsoft Cortana now features IFTTT integration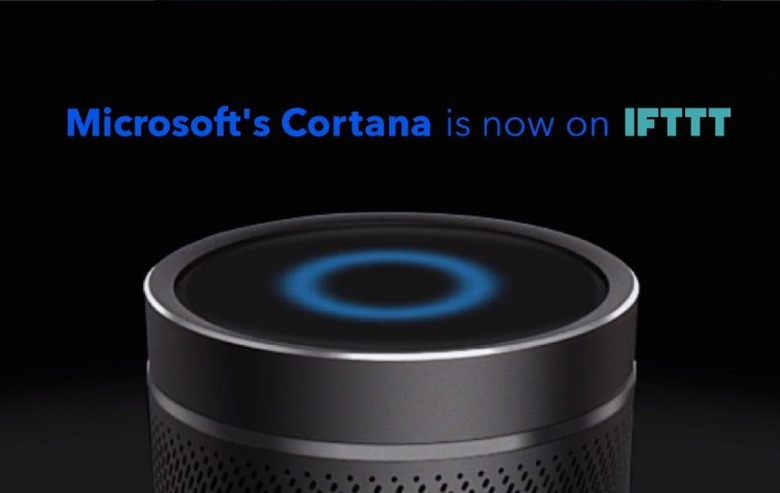 While Microsoft's Cortana struggles to keep up with Amazon's Alexa and Google Assistant in the growing smart assistant market, it's still making effort to stay relevant. Its latest feature is integration with IFTTT, the platform that lets users connect hundreds of different apps and services, creating automated processes through the use of "triggers" and "actions."
With IFTTT, Cortana users can now ask the assistant to interact with many more third-party services, like asking their Samsung Robot vacuum to start cleaning, or recording their weight on Fitbit, for example. Along with creating their own "applets," users can also browse IFTTT's existing "recipes" and use them with their Cortana-enabled device. This means they don't always have to wait for third-party services to officially add Cortana support, such as the different skills that come to Amazon's Alexa.
Another neat feature is that users can create their own custom phrases to have Cortana trigger actions with IFTTT. "Hey Cortana, let there be light," could be used to turn on the lights, or saying "Hey Cortana, movie time" could trigger multiple actions, like turning on a Harmony TV, turning down Hue lights, and setting the Nest thermostat to the right temperature.
Apart from IFTTT, Microsoft also revealed that Cortana now works with several new smart home devices, including EcoBee, Honeywell Lyric, LIFX, TP-Link, and Geeni. Users can control these devices with Cortana on Windows 10, the Cortana mobile app, and the Harman Kardon Invoke speaker.