Microsoft buys video-searching VideoSurf for Bing and Media Center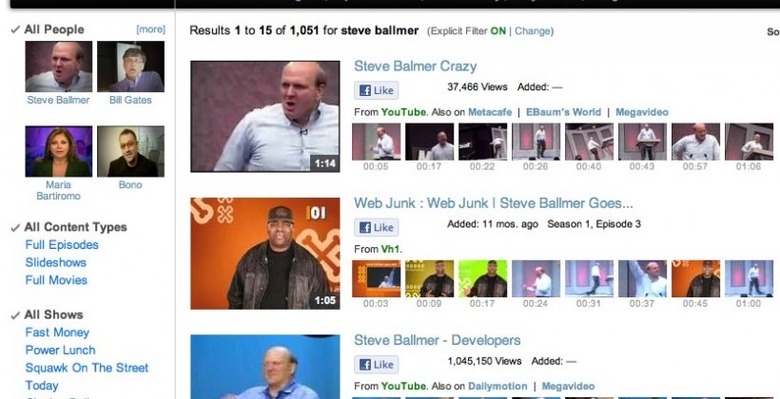 Microsoft has snapped up intelligent video search specialist VideoSurf, in a deal worth around $70m that could see Bing and future Media Center releases dig through streaming media content more accurately. VideoSurf uses computer vision to actually scan through footage hosted by YouTube, Hulu, DailyMotion and others, indexing them by content rather than just whatever tags uploaders have added; the deal, Calcalist reports, is expected to primarily improve Microsoft's Bing rivalry against Google search.
"Using patent-pending computer vision algorithms that can actually see the video's content, VideoSurf serves up more relevant results for your queries and offers a new, visual way for you to interact with the video set returned. You can refine your results based on the people who actually appear in the videos and pinpoint the specific moments you're interested in watching or sharing with your friends" VideoSurf
Current video search systems take a more basic approach to discovering clips, with metadata rather than content being the primary source of information. VideoSurf's approach actually looks at what's in the clips and themes, such as specific actors or car chases, and can apparently pinpoint not just an individual video but a point in that video.
The company – which counts Al Gore among its investors – came to particular attention back in January, showing off its visual search system on Verizon Android smartphones. After being shown around five seconds of a video using the smartphone's camera, the VideoSurf app could identify it and show details of which TV show it is, which episode, the runtime and a full cast list.
Microsoft's plans for the system are unspecified -
the company is yet to confirm the deal, in fact
- but we wouldn't be surprised to see Bing integrate it in short order. However, VideoSurf's tech also has broader implications for Media Center implementation: future STBs or Microsoft's rumored Project Orapa IPTV system could well leverage the search to beat Google TV and Apple TV in serving up the sort of content users want to see.
Update: Microsoft has confirmed the acquisition, saying that the company "will integrate this technology across its entertainment platform to augment the Xbox 360 ecosystem and evolve search and discovery of entertainment content on Xbox LIVE."
[via TechCrunch Europe]