Two mid-range Lumia smartphones from Microsoft just got an accessory. Really, everyone did. Today, Microsoft is unveiling a foldable version of their cross-platform keyboard, launched late last year. Originally, the keyboard shielded itself from outside damage with a fold-down lid that doubled as a backstop for your tablet or smartphone. The new, fold-y version of the keyboard won't do that, but it does offer a smaller footprint for users, handy when toting around. We don't have word on pricing or availability just yet.

Aside from being smaller, the new keyboard has a handsome matte finish and magnetic closure. It's as much a style accompaniment as it is a capable accessory.
To accomplish their folding feat, Microsoft had to make one noticeable concession. The middle of the keyboard has a deep rift, so this one may not be as immediately familiar to users as their last option.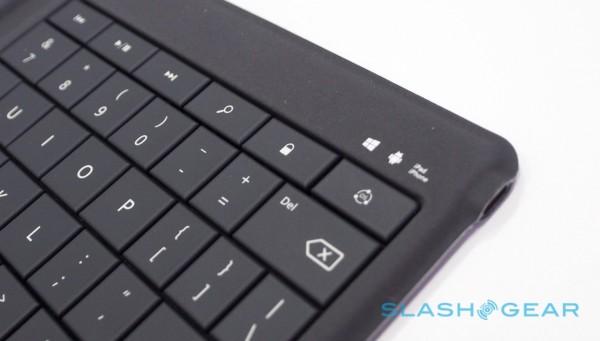 If you're on the go and don't have a lot of room in your bag (or maybe even pocket), this one is an option to consider. Keyboard travel is surprisingly good, but without sacrificing portability.
Like its predecessor, the keyboard is agnostic toward operating systems. It pairs via Bluetooth, and makes no hardware configuration stances. You won't have a 'Windows' button, nor will you have an 'Android Home' key. It' s a keyboard, plain and simple. Pair it to any device you like.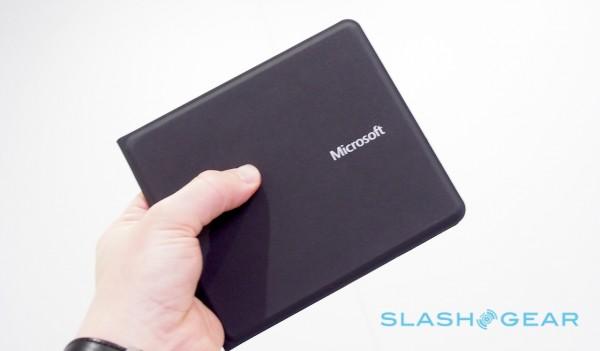 Two quick-switch buttons, meanwhile, on the top row allow you to quickly flip between two paired Bluetooth devices of any OS. So, you could be typing on your Windows Phone one moment, and then leap over to your iPad near-instantly.
Microsoft isn't ready to say when this one will come out, or how much it'll cost. The last model ran $80, so expect to pay just as much, if not a touch more.