Microsoft Announces Strong Q3 Earnings Report, Revenue At $16.43 Billion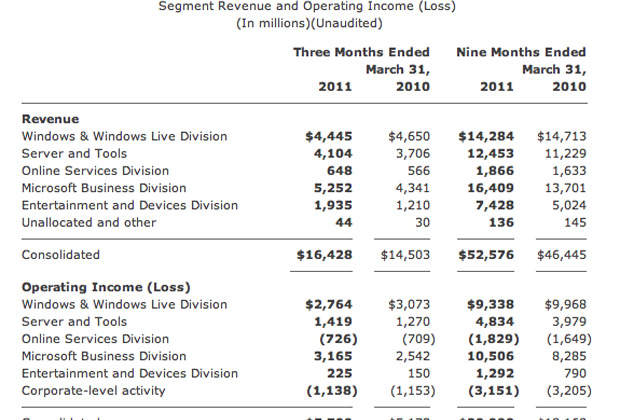 All the quarterly earnings reports are rolling in, with announcements last week from Intel and Apple among others, and an announcement today from Microsoft. For its fiscal third quarter 2011 earnings, Microsoft reported $16.33 billion in revenue, which far exceeded analysts' expectations. This figure is a 13 percent jump from the same period during the previous year.
Microsoft's operating income was $5.71 billion with a net income of $5.23 billion. It's diluted earnings per share were at $0.61, which is a 35% increase. However, this officially marks Apple as being the more profitable company, with their earnings report last week stating a net income of $5.99 billion.
Strong sales of Office 2010, Xbox, and Kinect were to thank for Microsoft's strong numbers. The company also noted that it sold an impressive 350 million copies of its Windows 7. However, it did not mention anything about the sales performance of its Windows Phone segment.
"We delivered strong financial results despite a mixed PC environment, which demonstrates the strength and breadth of our businesses. Consumers are purchasing Office 2010, Xbox and Kinect at tremendous rates, and businesses of all sizes are purchasing Microsoft platforms and applications," said Microsoft CFO Peter Klein.
[via TechCrunch]