Microsoft and Sony reveal Black Friday gaming deals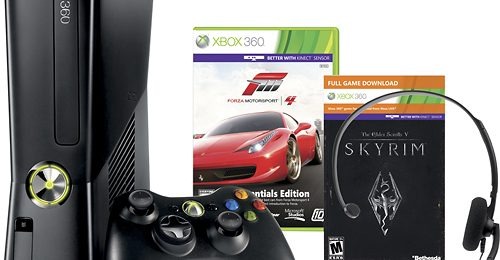 Black Friday is one week away, and retailers are already pumping out their Black Friday adverts to those hungry for some crazy deals. Both Microsoft and Sony have announced the deals that they'll be offering on their gaming consoles and bundles. They prove that if you're looking to get a new Xbox 360, PlayStation 3, or PlayStation Vita, next Friday is the time to buy.PlayStation Vita bundles will sell for $199 each, and will come in three different bundles. One will come with a limited edition white Vita with Assassin's Creed 3: Liberation and a 4GB memory card. The other two will come with a black WiFi Vita model with either Call of Duty: Black Ops Declassified and a 4GB memory card, or Lego Batman 2: DC Super Heroes.
Sony will also have a $199 PlayStation 3 bundle that will include a 250GB console, Uncharted, Uncharted 2: Among Thieves, Infamous, Infamous 2, and Infamous: Festival of Blood, as well as a 30-day subscription to PlayStation Plus. Sony will also be offering DualShock 3 controllers for $39.99 "at select retailers nationwide."
Microsoft will also be offering console bundles for their Xbox 360, but the bundles will vary between different retailers. Walmart will have a special edition white 4GB console with Skylanders: Spyro's Adventure and a Skylanders figurine for $149. Best Buy, Fred Meyer, Fry's, and Newegg will have a 250GB Xbox 360 with Forza 4: Essentials Edition and Skyrim for $199. Target, Amazon, Sam's Club, Meijer, Kmart, and Microsoft Stores will have a 4GB console bundled with a Kinect sensor and Disneyland Adventures for $199. GameStop will be offering a 250GB console with Call of Duty: Black Ops II for $249, RadioShack will have a 4GB console with a wired headset for $169, and Toys R Us will offer a 4GB console with a $50 gift card for $179.
Microsoft will also be discounting a handful of games at select retailers, and will also be offering a three-month Xbox Live subscription for $12.99. The games include Dance Central 3, Kinect Sports Ultimate, and Fable: The Journey for $29.99 each. Forza Horizon will be discounted to $39.99, and the purchase of Halo 4 at either Target or Amazon will net you a $20 gift card (plus a $10 instant video credit when you buy the game at Amazon).