Microsoft and GlacierWorks join forces to offer virtual Everest experience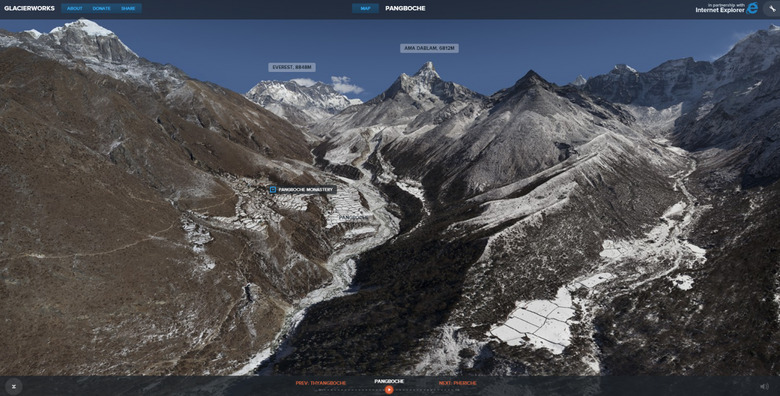 Mount Everest and its region are well known, yet something the vast majority of us will never experience in person. That won't stop us from getting a detailed look at the area, however, thanks to a partnership between Microsoft and GlacierWorks, a non-profit from mountaineer and filmmaker David Breashears. Called Everest: Rivers of Ice, the project allows Web users to interactively travel through the region from behind their computer monitor.
The project is brought in part by Internet Explorer 10, but can be used on whatever browser the user prefers, offering up the virtual tour via HTML5. It isn't meant merely for exploration, however, instead allowing users to see the changes in the area that have happened over the last almost nine decades since an image of the region was taken by George Mallory in 1927.
The GlacierWorks project opens with a near horizontal map offering clickable links to various areas in the region, including the Everest Base Camp and spanning down through eight other areas. Clicking on an area takes you to an interactive panorama of the specific location, and once there users can zoom in on specific peaks or areas for a closer, and quite detailed, look. Alternatively, there's an option to click "Start" and be taken from one end of the region to the other in order.
Such imagery was captured using gigapixel images, comparative photography, video, and hot spot overlays. Although you can tour it via your browser and mouse, it was specifically made for touchscreens and touch devices, supporting multi-touch and making it simple to move from one area to the next with finger swipes. Such a virtual look into the region hasn't ever previously been available.
The website also features a video, which shows up first when the project is visited. Says Microsoft, this provides a different kind of storytelling over conventional methods, providing a narrative that, rather than having a beginning, middle, and end, thrusts users into the mix and allows them to see the story for themselves via interactive participation.
SOURCE: Windows Blog