Microsoft All-in-One Media Keyboard targets tablets and TVs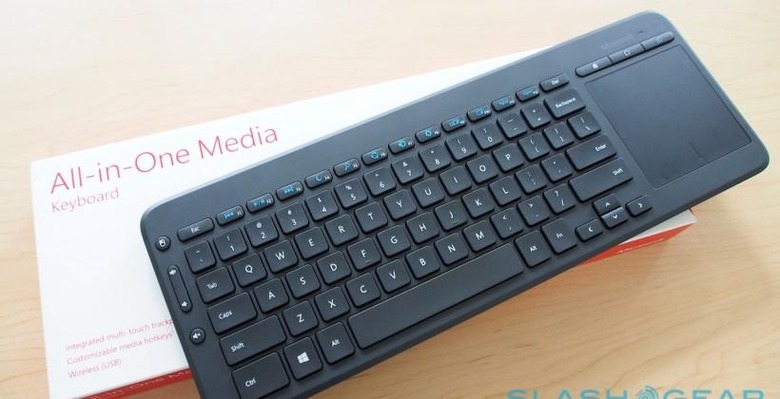 Microsoft has a new wireless keyboard with integrated trackpad, the All-in-One Media Keyboard, targeted at living room users, smart TVs, Xbox One, and tablets. Offering both a full-sized QWERTY layout – along with a few useful shortcuts – the AIO Media Keyboard also slots on a multitouch trackpad on the right, for easier navigation.
The AIO Keyboard has all the buttons you'd expect for a Windows keyboard, including Start and the various charms that Microsoft added for Windows 8. However, there are more generic volume and media playback keys too, which will be supported cross-platform.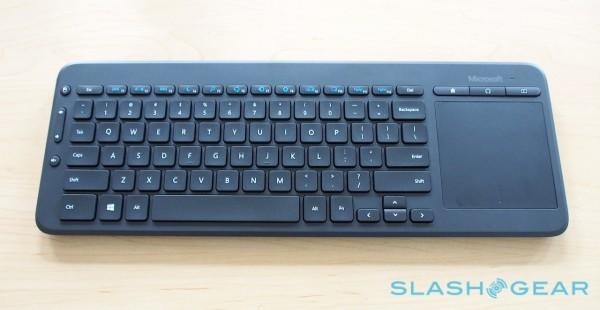 We caught up with Microsoft to try out the new 'board, and found there are plenty of considerate features. For instance, as well as the right and left mouse buttons built into the lower edge of the trackpad, there's a second left mouse button on the other side of the keyboard; that means you can easily navigate and select while you're holding it in both hands.
Microsoft opted for a proprietary RF connection rather than Bluetooth, reasoning that the latter is a rarity in smart TVs and set-top boxes. Instead, you get a small USB dongle that plugs in and instantly pairs; it lives under a hatch on the bottom, when not in use, with a magnet holding it in place.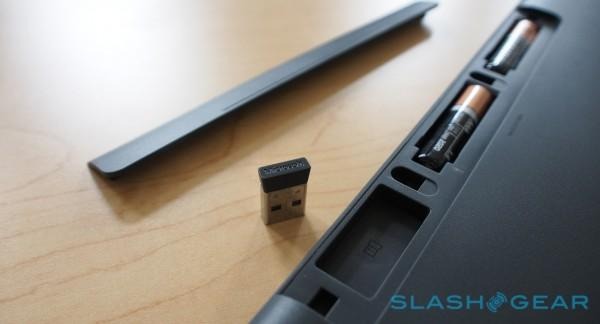 That's not the only physical consideration. There's an actual power switch on the side, not just a power-saving mode that automatically kicks in after a period idle, for instance, just in case the kids get hold of it.
According to Microsoft, the All-in-One Media Keyboard will work with Windows 8.1, 8, and 7; Windows RT; Mac OS X 10.7 through 10.9; and Android 4.03, 4.12, and 4.2. If we had a complaint, it's that the keys on the pre-production unit we tried felt a little on the mushy side for our liking, though it's possible the final hardware will be different. It'll go on sale this month, priced at $39.95.