Microsoft adding Skype chat to Office Online web apps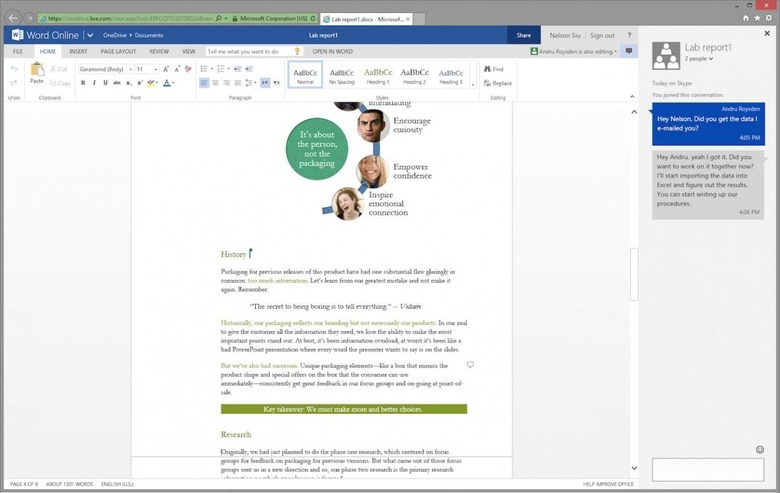 It's one of those features that Google Drive/Docs users have been able to use for so long that it's almost expected by now: real-time chat with others while collaborating on documents. As Microsoft has been pushing its Office programs like Word, Powerpoint, and Excel into the cloud recently, users of Office Online are finally able to communicate via built-in Skype chat.
Recently announced on the Office Blog, Microsoft says it will be bringing the chat functionality "in the coming weeks," but only to the Word and Powerpoint web apps. Sadly left out are Excel, as well as OneNote, at least for the time being.
Once the Office Online updates are live, users will only need to click on the "Chat" button in the upper-right corner to begin communicating with collaborators. Conversations are displayed in a typical sidebar window, allowing easy access to discussing edits with coworkers. Those familiar with the chat functions on Outlook.com and OneDrive will instantly be at home in the new versions.
While Microsoft may be late to the party, the Skype-powered messaging tops Google Drive's in a number of ways. Drive's documents-based chats never carry over to Hangouts or any of Google's other platforms, but those in the Office web apps are synced to the main Skype service. This means you can open the Skype app on your desktop or mobile and review or continue messaging after the Office document is closed.
VIA The Next Web
SOURCE Office Blog