Microsoft's Window Mobile Platform: A Downfall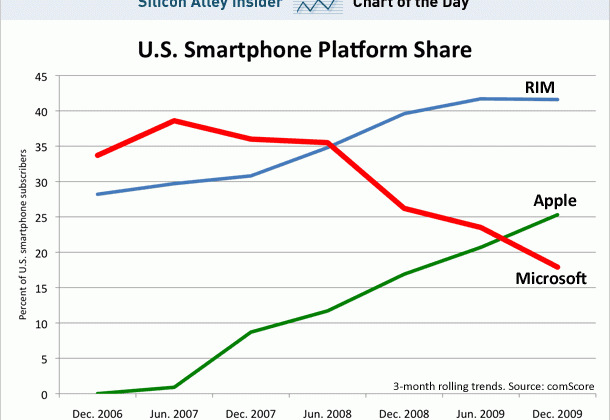 I have vague memories of those years long ago when Windows Mobile was the ruler of the roost, dominating nearly half of the mobile operating system market.  Then, in that last three years, WinMo market share started descending on a steep slope.  And never really recovered.  Now with the advent of Windows Phone 7, Microsoft's next generation mobile platform, the software giant is hoping to find success in its mobile future.
The chart detailing U.S. platform share, represents both existing devices as well as new sales during each period., brought to us by Silicon Alley Insider.  Microsoft has lost much of its market share and almost all of its relevance; RIM's army of BlackBerries and Apple's legion of iPhones have become the dominant forces jockeying for position in the mobile smartphone arena.
Windows needs a serious boost in its mobile market, and Microsoft knows it, completely revamping its mobile platform and outing Windows Phone 7.  Will it regain its glory, and more crucially, its marketshare?  It depends on a lot of variables, strecthing from hardware choice, pricing, app platform, and carrier selection.  Time will only tell if Microsoft can climb up the very hill it fell from.