Microdia has a 512GB microSD card you probably can't afford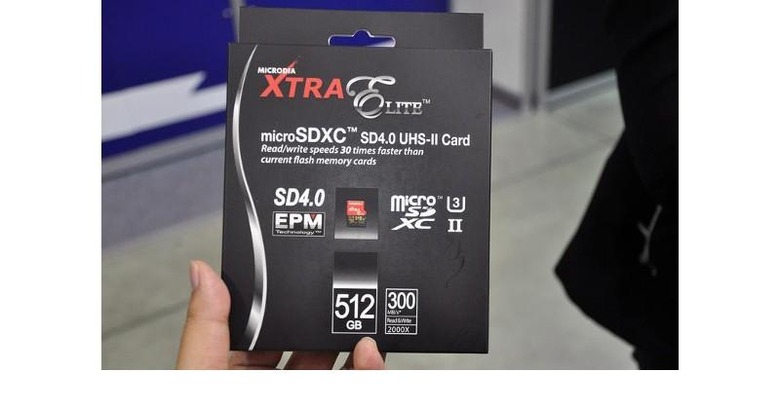 SanDisk may have just unveiled their crowning glory at Computex, the 200 GB microSDXC card, but already they have some tough competition, depending on how you look at it. On the same Computex floor, a company called Microdia is flaunting a microSD card that has more than double that capacity. Yes, welcome the 512 GB microSDXC card. This one is set to go out in July if everything goes well for Microdia, but it is going to carry a prohibitively expensive price tag that very few consumers will be able to afford.
Devices already advertise support for 2 TB cards because that, in theory, is what the SDXC standard can support. At least on paper. We have still yet to see an actual memory card of that size, as the laws of physics and our current manufacturing technologies prove to be quite troublesome. So when data storage manufacturers come out with high capacity cards of this small size, it's hard not to take note.
Actually, it might be hard to take note if you're name isn't one of the big brands, which, of course, isn't fair but also not unexpected. Microdia's surprising product almost went unnoticed on the showroom floor if not for the discovery of its 512 GB capacity. The Xtra Elite, which is the formal name of this microSD card, touts SD 4.0 and UHS compliance, with data transfer rates of up to 300 Mb/s. Definitely not your average microSDXC card when you consider both capacity and speed.
That said, if the 200 GB SanDisk card costs $399, this one will definitely cost a whole lot more. Final retail price isn't available yet, but Microdia hints it will be around the $1,000 mark, which doesn't bode well for regular consumers. Instead, the microSDXC card would appeal to professionals, especially digital photographers, who need the space and the speed.
VIA: CNET