Michigan first state to pass fully self-driving car law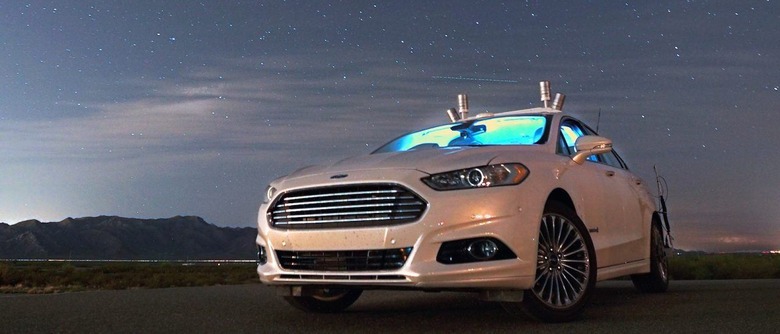 Self-driving cars might find the roads in Michigan most welcoming for their AI pilots, with the state being the first in the US to make autonomous driving legal. The new law was signed by Gov. Rick Snyder this morning after extended discussions with automakers and ride-sharing firms, and includes permissions including vehicles that have no traditional controls whatsoever. It's part of Michigan's attempt to get ahead of rivals like California and Nevada in the race to self-driving transportation.
"Michigan is the global center for automotive technology and development, having transformed the way the world moves for more than 100 years," Governor Snyder said today at the Automotive Hall of Fame in Dearborn. "By establishing guidelines and standards for self-driving vehicles, we're continuing that tradition of excellence in a way that protects the public's safety while at the same time allows the mobility industry to grow without overly burdensome regulations."
The law signs into existence a new governing body that will be a branch of Michigan's Department of Transportation, focused on next-generation driving technologies. Dubbed the Michigan Council on Future Mobility, it will be responsible for regulating things like connected car networks, for intercommunication between vehicles and with the smart city. It'll also track information on crashes and other incidents involving autonomous cars.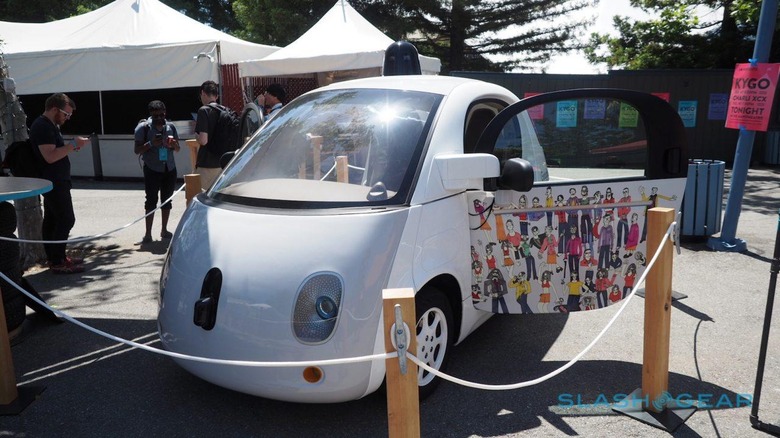 As for the regulations on vehicles themselves, there are three main strands. First, is the type of legacy controls that are still involved: the law says that cars without steering wheels, pedals, or indeed any human involvement can be set loose on the state's roads. Second, there's permission for both automotive and technology firms to operate self-driving vehicles for ride-sharing services. Notably, both Uber and Lyft were heavily involved in consultation ahead of the law's signing.
Finally, self-driving vehicles will be allowed for sale to the general public, though only when the technology "has been tested and certified" the state says. Exactly what will go into that test specifically has not been clarified at this point, though it's likely to be one of the key goals of the new Michigan Council on Future Mobility.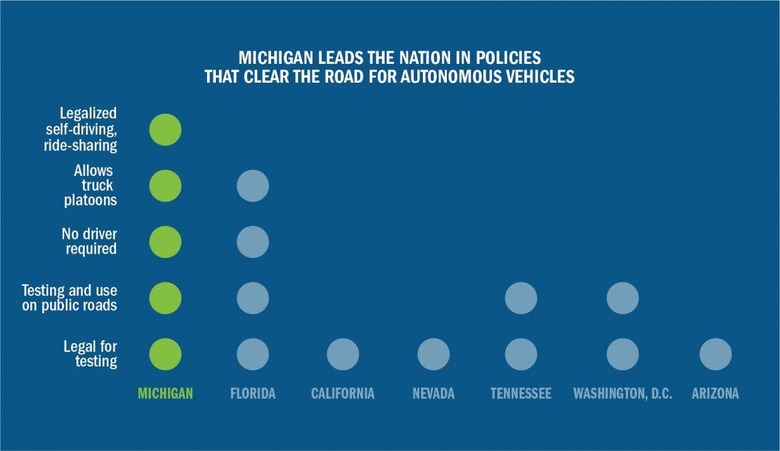 Some of that testing is likely to take place at the upcoming American Center for Mobility, a 335-acre site in Ypsilanti Township. Michigan's second purpose-built center for the research, testing, and self-certification of autonomous and connected tech, it'll be open for the use of both private businesses and academia, but also government trials. It follows Mcity, the first such testing location in the state, where companies like Ford already perform tests.
In addition to Uber and Lyft, Fiat Chrysler, Ford, GM, Toyota, and Google were all involved in shaping the legislation. The overarching goal, according to Kirk T. Steudle, director of the Michigan Department of Transportation, was to facilitate more real-world development in a safe way. "The law helps government further support the industry while not getting in the way," he said.
Back in October, California signed a bill which allowed limited testing of fully-autonomous cars with no steering wheels on public streets. However, the state is yet to finalize a law like the one Michigan has pushed through today.