MetroPCS switch on Dallas/Fort Worth 4G LTE [Updated]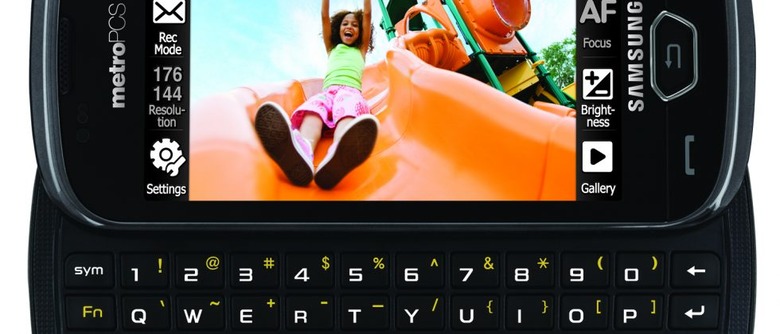 Fallen in love with the Samsung Craft (what, really?) but don't live in Las Vegas to take advantage of MetroPCS' fledgling LTE network?  You'll be pleased to hear, then, that the carrier has turned on its next 4G city: the Dallas/Fort Worth Metroplex (DFW).
As before, two plans are on offer.  The cheapest, at $55 per month with no ongoing agreement, includes unlimited text, voice and data, while the $60 plan throws in access to the new MetroPCS MetroSTUDIO; that offers ringtone, music and video downloads.
The Samsung Craft, meanwhile, is a 3.3-inch AMOLED featurephone with a slide-out QWERTY keyboard, 2GB microSD card and a 3.2-megapixel camera, along with WiFi and the Samsung TouchWiz UI.  It's priced at $299 after a $50 instant rebate.
Interestingly, and which we didn't notice in MetroPCS' first press release (though it was there), is that the unlimited 4G data is said to be "initially" included in the $55 plan.  We're guessing this is the carrier's attempt to cover itself should usage get out of hand, but we're always wary of potential changes to plans with no indication as to when that might take place.
Update: A MetroPCS spokesperson has given us the following comment:
"At this time, unlimited 4G data is an introductory offer.  Unlimited is the key to our business model and as a leader in the low-cost, high tech space we are always trying to provide the best value for our customers. This is a new service so we will evaluate how our customers are using it and therefore will be in a continuous evaluation mode as we roll out our markets."
Press Release:
MetroPCS Launches Commercial 4G LTE Services in the Dallas/Fort Worth Metroplex

MetroPCS Offers the Only Commercial 4G LTE Experience for Area Consumers

DALLAS – (Sept. 29, 2010) – MetroPCS Communications Inc. (NYSE: PCS) today introduced the first commercial 4G LTE services in the Dallas/Fort Worth Metroplex (DFW) with monthly plans starting at $55, including all taxes and regulatory fees. DFW consumers will experience 4G Web access and unlimited voice and text services on the world's first commercially available 4G LTE-enabled handset from Samsung Mobile, the Samsung Craft™.

The launch of commercial LTE service in the DFW metroplex follows Las Vegas as cities where MetroPCS is offering 4G LTE service, with additional major metropolitan areas to follow later this year and in early 2011. With a state-of-the-art 4G LTE network infrastructure provided by Ericsson and an advanced entertainment handset with a brilliant AMOLED screen, MetroPCS is providing compelling value to consumers while meeting their growing demand to do more with multimedia applications.

"MetroPCS will continue to expand 4G LTE network coverage into all of our markets through 2011 to offer unmatched value in 4G LTE services on a no-contract basis for all of our customers," said Roger D. Linquist, president, CEO and chairman of MetroPCS. "The launch of our 4G LTE network in the metroplex is yet another milestone in our expansion and our vision of the Internet going mobile."

MetroPCS offers monthly 4G LTE service plans for $55 or $60, which include talk, text and a 4G Web experience initially on an unlimited basis. In addition, DFW customers will now have access to new applications and features that take advantage of MetroPCS' 4G LTE network, including:

MetroSTUDIOSM, available on the $60 service plan, includes access to content that consumers demand, such as full-track downloads, ringtones and ring-back tones, as well as premium video content from NBC Universal, Black Entertainment Television (BET) and Univision, available on-demand and on-the-go from one easy-to-use application.

A new social networking and instant messaging aggregation application, which harnesses notifications, friends and content from Facebook, MySpace and Twitter social networks and AIM, MSN and Yahoo! IM clients into a single interface that consumers can access with one click.

Upgraded MetroNavigator® feature with the addition of voice-activated GPS and turn-by-turn directions.

MetroPCS is initially offering the Samsung Craft in DFW metropolitan area stores and online for $299 plus tax, after $50 instant rebate, while supplies last. The Craft delivers a stunning visual experience with its 3.3 inch AMOLED (Active-matrix organic light-emitting diode) screen, which comes to life on the 2GB MicroSD card pre-loaded with Paramount Pictures' hit movie "Star Trek." The device also includes a combination touch screen, slide-out QWERTY keyboard and Samsung's TouchWiz™ user interface to surf and text message; 3.2 megapixel camera with flash and camcorder; and Wi-Fi capability.

"With the launch of our 4G LTE service and the Samsung Craft, MetroPCS brings everything together at our customers' fingertips to do more with the mobile Internet every day, whether they're accessing social networks, finding the best route to work, catching the latest hit TV shows, or downloading and sharing music, photos and videos," said Tracy Lange, vice president and general manager of MetroPCS Dallas.

MetroPCS' DFW 4G LTE network will cover the majority of MetroPCS' existing CDMA network footprint in the DFW Metroplex. 4G LTE network rollouts in the remaining MetroPCS markets are planned for later this year and early 2011. MetroPCS plans to further expand 4G LTE coverage in 2011, along with the launch of additional devices to increase MetroPCS' portfolio of feature phones, touch screens, smartphones and 4G handsets.