Metroid: Samus Returns gets a special edition New Nintendo 3DS XL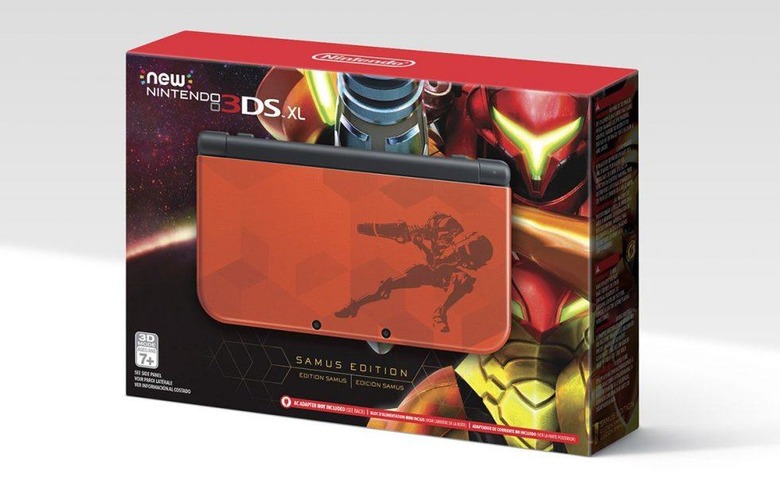 We haven't seen much of our friend Samus Aran in recent years, but that's all about to change with the release of Metroid: Samus Returns on the 3DS. After a release schedule that only saw the launch of Metroid Prime: Federation Force and Metroid: Other M – two only so-so Metroid games – in nearly the last decade, Metroid fans are about to get two big releases. Samus Returns is coming up later this month, while Metroid Prime 4 is slated to hit the Nintendo Switch sometime in 2019.
After Other M and Federation Force, Nintendo has finally given Metroid fans a couple of games to get really excited about, and now the company is looking to ramp up that excitement with a special 3DS. Today Nintendo of America revealed that it will launch a Metroid: Samus Returns special edition New 3DS XL alongside on the game, meaning that both will be on store shelves on September 15.
As far as special edition 3DSes go, this one looks pretty good. The color scheme is meant to invoke Samus's iconic suit, and it seems to do that well. You could certainly do worse with some of the special edition handhelds Nintendo releases – and there are a lot of them.
There's just one thing you'll need to keep in mind with this special edition Samus Returns console: while the system will set you back $200, it doesn't actually ship with the game. You'll need to shell out for Metroid: Samus Returns separately, bringing your total cost up to $240 if you need both a 3DS and a copy of the game. That isn't terrible when we compare it to the cost of most consoles, but it still would have been nice to see the 3DS and game bundled together.
Metroid: Samus Returns is a re-imagining of the classic Game Boy game, Metroid II: Return of Samus. The original game was released all the way back in 1991, so we're revisiting it a staggering 26 years later. This new 3DS will be available at "select retailers" on September 15, so keep an eye out for it at places like Target, Walmart, and Amazon when the time comes.